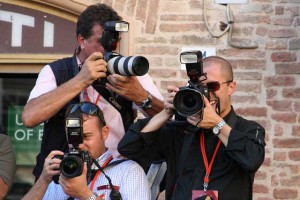 A new law in California will allow residents of the state to sue any media outlet that first publishes a picture that violates a "reasonable expectation of privacy" or was taken forcibly. The amendment, which goes into effect in January, makes it a crime to photograph celebrities in a "personal or familial activity," and introduces civil fines of up to $50,000.
California Gov. Arnold Schwarzenegger, no stranger to invasive photogs himself, signed the anti-paparazzi order into law over the weekend. For celebrity magazines like OK! and US Weekly, who thrive off of the candid shots, this hardly appears to be cause for concern. As noted by CNN, magazines are often in cahoots with the celebrities they're covering, who — despite the annoyance — benefit greatly from the publicity:
A lot of times the shot you see in the magazine is actually orchestrated by the celebrity themselves," said celebrity columnist Ben Widdicombe. "Celebrities like Britney Spears, for example, are infamous in the industry for letting their assistants tell the paparazzi when they'll be leaving the gates."
Huge sums of money are also thrown around for the right shot:
Demi Moore and Ashton Kutcher reportedly pocketed $3 million from OK for their 2005 union. Eva Longoria and Tony Parker received $2 million from OK for photos of their lavish Paris, France, wedding.
If the magazines will get by without a hitch, more likely to be affected are the hundreds of freelance photographers likely to sell their work independently, or to online gossip sites like x17 or TMZ. If stalking the stars in Los Angeles becomes a financial liability — in the form of fines and more frequent lawsuits — it might mean more paparazzi traffic in the rest of celeb-U.S.A, namely New York City. Only time (and court cases) will tell if the new law catalyzes a shift in the geography of star stalking, but for the record, Manhattan's full.
Photo via LAist
Have a tip we should know? tips@mediaite.com