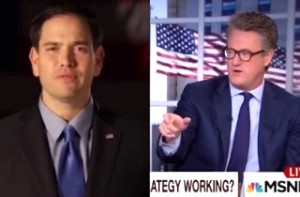 An email from an MSNBC producer is fueling speculation that there's more to Joe Scarborough's ongoing criticism of Sen. Marco Rubio than meets the eye. The Morning Joe host has taken umbrage with the fact that Rubio hasn't appeared on his program, and "Joe sees this as disrespectful," the producer wrote.
According to the New York Times, which obtained a copy of the email:
The message from a top producer at MSNBC was blunt: Joe Scarborough, the host of Morning Joe on MSNBC, was displeased that Senator Marco Rubio of Florida repeatedly appeared on rival cable news shows but kept rebuffing invitations to appear on his program.

For Mr. Scarborough, the email from the producer made it clear, it was personal.

"Joe sees this as disrespectful given their past relationship," the producer wrote to a Rubio aide who had complained about the show's coverage of Mr. Rubio. "It's as simple as that."

"Have him come on with us," the producer wrote.
Rubio is the only major presidential candidate not to appear on Scarborough's show this election cycle. And, yes, the MSNBC host has been critical of the Florida senator. Scarborough ridiculed his high-heeled shoes — which a lot of people did, though apparently only Scarborough went so far as to label the footwear "shagalicious." When Sen. Rick Santorum appeared on Scarborough's show to endorse Rubio, the host handed Rubio's opponents a juicy soundbite when he challenged Santorum to name a single one of his accomplishments — and he couldn't. Scarborough has also said Rubio's appeal to Americans who "feel out of place in their own country," was "such a crass and ham-fisted play," which resembled "what a student government president does when he wants to get elected with a nativist vote."
Speaking to Yahoo! News Monday, Morning Joe co-host Mika Brzezinski said the insinuation that Scarborough had the knives out for Rubio was a fiction invented by his campaign, and one it "had actually been shopping" to media outlets for as long as six months "to try and make Marco Rubio look like a victim of Joe's attacks."  She suggested that left-leaning pundits and news organizations might be drumming up sympathy for Rubio because they hope he will win the GOP nomination, believing that he will be easier to beat in the general election.
Scarborough dismissed the notion that there was any personal animus behind his on-air criticisms of Rubio: "It's an interesting narrative," he wrote in a Politico column published Saturday, "but it's not true." He added that "the Rubio campaign has been shopping this false tale for six months now."
If he was tough on Rubio, Scarborough protested, he noted that his coverage "has been tough on George W. Bush, John Kerry, John McCain, Hillary Clinton, Mitt Romney, and just about every major candidate for national office. I even hung up on Donald Trump on live television."
The Times reported there was speculation that Scarborough was motivated by envy, a notion Gawker echoed in an article headlined: "Joe Scarborough Really Is Not Jealous of Marco Rubio, Who Is Not Younger or More Accomplished Than Him at All."
"Both men were ascendant conservative stars in Florida," the Times notes, Scarborough having served four terms in the House from 1995-2001 before Rubio was elected to the Senate in 2010.
Although the email from the MSNBC producer notes a "past relationship" between Scarborough and Rubio, the host was quick to downplay that in his column.
"We were both in Congress, but I left Washington nearly a decade before Rubio arrived," Scarborough said. "We never crossed paths politically, professionally, or socially. And I know nothing of him personally other than what I read in newspapers."
Scarborough said that any negative criticisms he's had of Rubio are based strictly on political — not personal — considerations. "I have never once said a single thing negative about Rubio personally off the air," he said. "Not once."
He concluded:
I have questions about Rubio's ability to govern the country. And like any smart voter, I have questions about all the other candidates' abilities as well. But when I ask someone endorsing Rubio to list a single accomplishment of the Florida senator — and that is seen as a trick question — there may be a deeper problem with the candidate that can't be fixed by spinning false tales about a news host.
[h/t New York Times]
Have a tip we should know? tips@mediaite.com