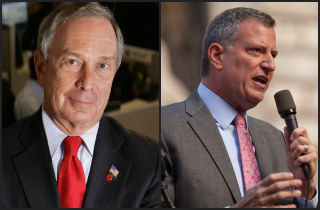 For the first time in twelve years, New York City has a new mayor. The city's voters traded in an immensely powerful billionaire "Independent" in Michael Bloomberg (he was term-limited) for a borough-based, progressive public advocate in Bill de Blasio, sparking all kinds of discussion about how far left the city government's politics may turn.
New York-centric media has become comfortable with their various roles in the Bloomberg administration, but that changes starting today. Here are the winners and losers in the transition to a post-Bloomberg world.
The Winners
New York Post – Yes, Bloomberg was sometimes the Post's punching bag, but he wasn't always a liberal. Their decidedly conservative editorial style makes them the official paper of opposition to de Blasio, replenishing their political relevance in new kinds of ways.
New York Daily News – The paper of outer-boroughs now has an outer-boroughs mayor instead of the Manhattan-centric Bloomberg. While their editorial pages will likely remain somewhat irrelevant, its reporters will see increased access and relevance. Furthermore, their web traffic is now enormous, making them important for any political leader.
Capital New York – With new ownership and an increased staff of smart hires, they will undoubtedly be a bigger player with this new administration.
Wall Street Journal – De Blasio is not exactly a finance guy, but with this new administration the WSJ will become the place the business community turns to for intellectual opposition.
NY1 – Being the semi-official media entity of city workers comes with perks like increased access in this administration.
Not Quite Winners, Not Quite Losers
New York magazine – As long as there is some intrigue in the mayor's office, they will win. But it could go either way.
The Losers
New York Times – They will likely support most of de Blasio's initiatives and, frankly, that's just not interesting. Another strike against the paper: They endorsed Christine Quinn, which de Blasio may never forgive them for.
New York Observer – Their waning relevance was boosted by a close relationship with Bloomberg. De Blasio likely won't care about them and, with a tiny reach, they suddenly lose any real political pull.
— —
>> Follow Andrew Kirell (@AndrewKirell) on Twitter
Have a tip we should know? tips@mediaite.com