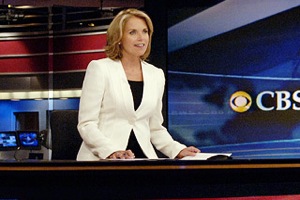 The New York Post is reporting of a possible deal between CNN and CBS Evening News anchor Katie Couric, who, according to friends cited in the report, is unhappy at CBS and "wants to be on the air somewhere before the [2012] Iowa caucuses."
The Post's report seems mostly to be speculation compiled from quotes by the CEO of Time Warner, Jeff Bewkes, CBS chief Les Moonves, and various "insiders." "CNN appears especially eager to sign Couric now that the new show starring ex-Gov. Eliot Spitzer is off to a stumbling start," the report reads, noting that Bewkes told Fox's Neil Cavuto that he would not cap CNN anchor salaries, perhaps hinting to possible future employees that there is reason to hop on board.
On the CBS side, though, the report indicates that there is little interest to let Couric go, quoting a "CBS insider" as saying, "don't be surprised if Katie stays," while another anonymous source tells them that "nothing has changed" between the network and its main anchor. Couric's contract ends in May, so it is possible that those on CNN are contemplating talking to her. A few more sourced comments might make the story more believable next time, however– not to mention that contemplations and talks so rarely lead to actual deals. As for whether that has anything to do with Parker/Spitzer remains to be seen as well, as that show is only a week old and, all things considered, still has time to blossom from this week's ratings.
Have a tip we should know? tips@mediaite.com