New York Post Suggests Liberal Justice Stephen Breyer Deserved It: 'Mug Him Again'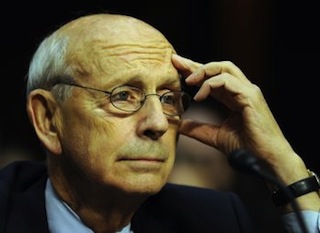 This past week, 73-year-old Supreme Court Justice Stephen Breyer was at his vacation home in the West Indies with his wife and some guests when a man wielding a machete entered their home, threatened them with a knife, and took $1,000. Clearly that's a horrible, traumatizing experience for anyone. But, did you know that Breyer is a liberal?! Obviously, this means that he deserved the attack and, if he doesn't start justicin' right soon, should get another one!
At least, that appears to be the thinking of the editorial staff of the New York Post.
RELATED: Supreme Court Justice Stephen Breyer Robbed At Knifepoint On Vacation
Buried at the bottom of today's editorial section in the paper is a little gem entitled "Breyer's Growth Experience?" Reading the small piece makes it clear that they put the question mark in the headline not because they aren't sure that being mugged at knife-point constitutes a "growth experience," but rather because they're not positive the ordeal was horrible enough to teach Breyer to quit his dirty leftie ways.
Here's the piece in full:
"Back when he was first running for mayor, Ed Koch used to tell of the time he told some senior citizens about a judge he knew who'd been mugged.

The judge, said Koch, told a group that 'this mugging will not influence any of my decisions from the bench' — whereupon a woman yelled, 'Mug him again!'

The story came to mind following news that US Supreme Court Justice Stephen Breyer and his wife were robbed of $1,000 in cash by a masked robber wielding a machete at their West Indies vacation home.

Neither the jurist nor his wife were hurt.

But we can't help wondering whether Breyer — a reliably liberal Bill Clinton appointee — will also refuse to let this incident figure into his judicial rulings.

Not to make light of his ordeal, but if Justice Breyer — like the judge in Mayor Koch's story — remains unmoved, all we can say is, 'Mug him again.'"
Wait, a second? He was appointed by Bill Clinton? The Bill Clinton?! That guy disagrees with me politically! Therefore I should totally use my power as an editor of one of the biggest newspapers in New York to incite more machete-wielding mad men to attack him, right?
Kudos to the New York Post. This is completely logical thinking. As we all know, anyone who has different opinions than we do deserves to be terrified with different sized knives. It's how the American justice system works.
Have a tip we should know? tips@mediaite.com