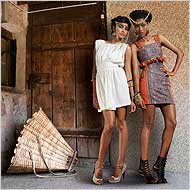 This year's edition of the New York Times Holiday Gift Guide featured one of the worst ideas since your vacuum cleaner Christmas present disaster: a section for "Of Color | Stylish Gifts." Yeesh — it sounds as awful today as it did on Wednesday. Here's the introduction, once again, for the section in question:
Somali fashion, do-it-yourself henna kits, children's books that draw inspiration from the lives of Barack Obama and Sonia Sotomayor: it's not hard to find gifts created for and by people of color this holiday season. Here are some possibilities.
Thorn-in-the-Times'-side blog NYTPicker first reported the offense, calling it pretty unequivocally racist, and late Saturday night published a comment on the matter from the paper's chief spokeswoman Diane McNulty.
Embarrassment! Remorse! You'd imagine. But nope — it's defensive and supportive. According to McNulty, the feature demonstrated "the efforts of a diverse Times staff to directly address minority readers with our content," offering ideas to a "wide variety of audiences and interests."
She's right! Aside from "minority readers," the NYT Holiday Gift Guide has special pages devoted to such diverse groups as children, caffeine lovers, and people who prefer "seriously huge televisions."
Point: NYTPicker. Here's the full statement:
Our online gift guides are intended to offer holiday gift ideas for a wide variety of audiences and interests, with Times writers and editors making smart, informed choices that might appeal to those different audiences.

The "Of Color" guide, in the Style & Travel category, is in keeping with that philosophy, and with the efforts of a diverse Times staff to directly address minority readers with our content.

Of course, we expect our readers to use the guides however they choose, and we hope they'll find interesting ideas in many different categories. But we'll continue our effort to provide content that's relevant and appealing. (via)
Have a tip we should know? tips@mediaite.com