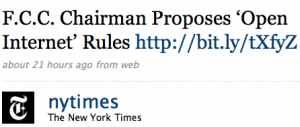 Does The New York Times want to be your new favorite Twitter search engine? The paper announced its plans to build a new set of smart search tools to zero in on "thousands of categories" worth of tailored information.
It's yet another sign of the Times' shift from an entity fueled by paper, ink, and news trucks to a creature of the Web.
According to Mediaweek, "The venerable news organization is exploring plans to build search products which can sift through thousands of Twitter feeds and pull together commentary on specific narrow topics." In doing so, it hopes to overcome the "literal" nature of normal Twitter search and to build a smarter, more user-friendly aggregator to be plugged into the site.
This could help drive traffic both ways; people could go to NYTimes.com to use these tools, and they could encourage Twitterers to turn out in greater numbers. Twitter is already growing into a formidable force with respect to the site's overall traffic: AllThingsD's Peter Kafka reports by way of Times spokeswoman Diane McNulty that "At its current growth rate, Twitter is, or will soon move into, the top 10 in terms of referrals to NYTimes.com," though Kafka estimates that this currently puts it in the low single digits as a percentage of the site's overall traffic.
Beyond driving traffic to the site, an NYT-branded Twitter killer app could potentially give the New York Times Company something that it badly wants: a new source of online revenue that doesn't come from newspaper sites. Last year, the Times reported:
At The New York Times Company, online revenue grew a healthy 13 percent in the second quarter. More recent figures indicate sluggishness at the company's newspaper sites, however. At The Times's News Media Group, which includes newspaper sites like The Boston Globe, The New York Times and regional newspapers, online revenue grew only 0.9 percent in July and 7.9 percent in August, well below the usual double-digit growth.
According to Business Insider, an estimated one third of NYTCo's Q2 2009 earnings before before interest, taxes, depreciation, and amortization came from About.com, a cash cow which is by no means a trendy, up-and-coming site. Twitter development could be a welcome supplement.
And it doesn't hurt that so many Times personnel are rabid Twitterers themselves; as Gawker reported, the paper sent out an email in June asking its newsroom not to install TweetDeck on their computers, lest it suck up all their memory. Hopefully the new tools won't suck them in too far.
Have a tip we should know? tips@mediaite.com