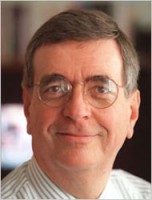 Last week, we told you about Harvard Business School professor and New York Times freelancer Prof. Mary Tripsas, who watchdog blog NYTPicker busted in an ethical pickle. Tripsas praised a company in her column which had just recently paid for her trip and accommodations to their headquarters, directly in violation of Times rules. This Sunday, public editor Clark Hoyt took on the issue (again): "Tripsas violated a policy against accepting travel or anything else of value from the subjects of coverage," he writes. "She will no longer be writing for The Times."
The column's title says it all really: "Times Standards, Staffers or Not." In short, the paper will enforce the same rules on freelancers as it does on better paid staff members, despite the fact that the ethical guidelines are often antithetical to the unstable life of a freelance writer and may complicate one's ability to do work elsewhere.
Whether it's free travel or all-expense-paid press junkets, writers just scraping by are prone to accept any favors that will make their job or financial life easier, but that just will not work according to Hoyt:
These cases illustrate how hard it is for The Times to ensure that freelancers, who contribute a substantial portion of the paper's content, abide by ethics guidelines that editors believe are self-evident and essential to the paper's credibility but that writers sometimes don't think about, or don't think apply to their circumstances, or believe are unfair or unrealistic. Some writers do not read the guidelines carefully, and although they are encouraged to raise possible conflicts of interest with an editor, some don't tell and are not asked.
The story of recently fired Times freelancer Joshua Robinson, just two years out of college, illustrates the conundrum perfectly. Robinson was fired for using his affiliation at the paper to score free airline tickets that he needed for an independent project. According to Hoyt, "He said he called himself 'a reporter for The New York Times' — which he is not — only to establish his 'street cred' with those he was soliciting, and not to imply he was on the newspaper staff."
In other words: because the struggling paper relies so heavily on freelancers (meaning no salary or benefits for many Times contributors), they are required to do additional work elsewhere, even though it may affect their employment with the Times. But if you count the number of contributors who have run into similar ethical issues lately (Mike Albo comes to mind), then maybe the writers have weighed their options and trying to get away with something is worth it in an "every man for himself" world. Maybe it's the paper being unrealistic and unfair.
"The paper wants to treat freelancers like staffers without the same pay or benefits, and without paying for their research," one former columnist said. Times editors contend that "the most important consideration is that everything in the newspaper, no matter who produces it, must be free of even the smallest hint of undue influence," while Hoyt suggests that writers keep slipping up because of the complicated guidelines.
But it seems pretty simple: pay them or let them fly.
Times Standards, Staffers or Not [New York Times]
Have a tip we should know? tips@mediaite.com