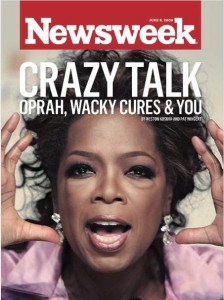 Back in the day, the notion behind news magazines was that since they couldn't cover current events as speedily as those freaks of timeliness, daily newspapers, they could provide the depth and context that newspapers supposedly lacked. Today, as newspapers try to brand themselves as the deep, contextual alternatives to blogs, news mags had better bring truckloads of depth and context to the table if they hope to remain at all relevant when their collection of one-to-six-day-old stories hit newsstands.
Though their much-ballyhooed relaunch has attracted its share of haters, Newsweek seemed to get this, while Time, despite its stable of fairly relevant blogs, has been painted as the dinosaur on the verge of extinction, to say nothing of the now-biweekly U.S. News and World Report. As magCulture put it:
In an attempt to deal with the changing context within which the weekly news magazine finds itself today, it has accepted that raw news is sourced elsewhere, and that it should therefore now feature only two types of story: reported narrative to illuminate important stories, and argued essays. Unlike rival Time, which relaunched last year, this weekly news magazine no longer has a News section. Brave stuff…
But bravery and high-mindedness are easy things to dole out in press releases and thought pieces; so far, Newsweek has been inconsistent on their delivery.
Kathleen Deveneny, the assistant managing editor of Newsweek, announced a new direction and re-design in a May 19th article: "One thing you'll find less of: celebrity news. Our research told us you didn't want it, which is a relief since we were doing it only because we thought we had to." Since then they've featured Oprah, Stephen Colbert, and of course  Michael Jackson. And if you pay attention GOP attack ads, even their Obama cover falls into the category of celebrity.
They're fortunate to have the all-star Fareed Zakaria in their stable, who gave them their two most substantive cover stories since the big relaunch. That aside, it's been a steady diet of Oprah, Colbert, and now — after a deluge of coverage that most everyone in America is sick of — Newsweek is shooting out yet another MJ cover. Time, meanwhile, is taking the (relatively) high road, focusing on Palin's resignation.
Though there's not quite another Todd S. Purdum piece among the lot, Time is at least trying to do what the new news mags are supposed to. Provided there will be any news mags five years from now.
Have a tip we should know? tips@mediaite.com