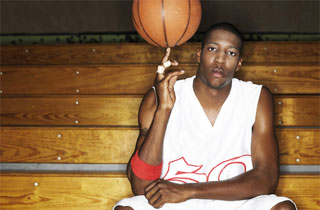 Amidst the accusations of race-baiting flung across the barren battlefield that is the Mississippi GOP Senate primary, comes a pro-Chris McDaniel editorial that absolves the Tea Party candidate of racism: McDaniel cannot possibly be a racist, because he played basketball with black people in college.
McDaniel's hometown newspaper The Laurel Leader-Call published an editorial (paywalled) decrying the weaponization of the term "racist," and claimed that Sen. Thad Cochran's campaign was using it against McDaniel to get the support of black voters. "It's been frustrating to see so many people in the black community be convinced that Chris McDaniel was a racist just because someone they trusted told them he was," they wrote. "If they did a little research on their own, they would find out that McDaniel was a basketball standout at South Jones and Jones County Junior College. At the risk of stereotyping, what color do you think his buddies were on those teams?"
More importantly, where are McDaniel's black friends, and why aren't they standing up for him? Because he definitely had black friends:
They not only played ball together, but they went to each others' homes, ate together, hung out together, shared each others' problems and dreams. It would've been nice if some of those old teammates had come forward to talk about the Chris they know, but being labeled "Uncle Tom" is almost as damning as being labeled a racist. It's a sad reality.
But seriously, black people, you're acting like slaves or something:
It's insulting to the election process and to their intelligence that black people are still letting their votes be "delivered" in blocs to certain candidates. One would think that the terms "bought and sold" would make them cringe. But that's just what they allowed themselves to do — all to keep wealthy, powerful white men in power. It's ironic. The more free our society is, the more enslaved it becomes.​
More context, as well as a photo of the op-ed in full, can be found at TPM.
[h/t TPM]
[Image via Shutterstock]
— —
>> Follow Tina Nguyen (@Tina_Nguyen) on Twitter
Have a tip we should know? [email protected]