Newspaper Owner Offers Worst (Best?) Defense Ever for Associating with Ted Nugent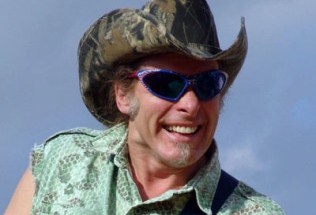 Headlines on conservative musician Ted Nugent are usually either about him saying something deeply crass about Democrats or about a group that is trying to distance itself from him after he's made one of those deeply crass comments.
But here's a new one from Allan Block, chairman of Block Communications, which owns the Toledo Blade.
The Blade, based in Toledo, OH, announced in April that it would be hosting a type of cook-out that would feature Nugent. Public backlash inspired Block to basically Google Nugent and then respond to the outcry from some liberal groups by way of a letter to the editor in the Blade.
"After hearing from the Toledo branch of the NAACP and the Toledo Community Coalition, and reading letters to the editor in opposition to the Blade-sponsored appearance in Toledo of music star Ted Nugent, I decided to go online to find out more about this performer," wrote Block.
Block wrote that he's sorry for the Nugent invite. But he doesn't plan on uninviting him.
"Although I will not support inviting him again, in my judgment the very high standard for uninviting him was not met in this case," he said in the letter.
And then, a curious an earnest and thoughtful defense of Nugent, who once referred to President Barack Obama as a "sub-human mongrel":
I also want to say that calling President Obama a "subhuman mongrel" does not make Ted Nugent a racist, as this kind of personal name-calling against a president of the United States is part of a long tradition of political slander that goes back to the founding of the Republic. Abraham Lincoln was called a baboon.
[h/t Romenesko]
— —
>> Follow Eddie Scarry (@eScarry) on Twitter
Have a tip we should know? tips@mediaite.com