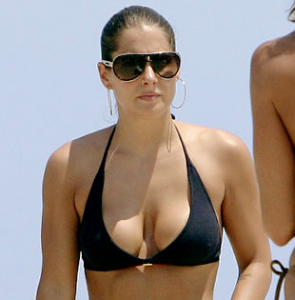 Yesterday it was the New York Times vs. Wall Street Journal, and today it gets muddier. The New York Daily News enlisted one-half of its storied gossip team, Joanna Molloy, to write a 575-word column entitled "Ashley Dupre sex advice column: As useless as Bernie Madoff money tips," slamming the New York Post for running Dupre's new Sunday column. The last time the Daily News gave a story nearly 600 words a man was keeping a tiger in his apartment! But there's nothing like a tabloid slamming another tabloid over a prostitute.
"Yep, there she was, Ashley Dupre, with her creative and profitable experience between the sheets," Molloy writes, "giving advice to New York's sexlorn in a newspaper that puts a new down in downmarket." That's the second paragraph. And while you'd expect the Post to be the recipient of most of Molloy's ire, she has plenty of nasty things to say about Dupre, the "rich girl."
"Gotta have those Birkin bags and a huge apartment in the Flatiron District while you're a struggling singer!" she writes. She casts doubt on the column's questioners, and from there, the New York Post insults are as follows:
"It's also a wonder how they knew Dupre would have her first column Sunday and had already written to that fact-challenged paper with questions like 'My girlfriend says she doesn't like porn. Is she lying?'"
"Hey, if her editors want to give the wanna-be singer her 16th minute of fame and they're consenting adults, who are we to be snarky about it?" Joanna Molloy, that's who!
"Political cynics might wonder if Dupre isn't just being used, this time between sheets of paper…"
"Of course, they once gave Victoria Gotti a column, so maybe it's just all about selling newspapers?"
You get the idea, but she really saves the joke onslaught for the final section of the column. Just imagine the nonsense the Post will think up next! Molloy has some suggestions: "perhaps six of Tiger Woods' mistresses… Bernie Madoff… Salvatore (Sammy Bull) Gravano… Sen. Larry Craig… Mel Gibson… Lindsay Lohan… 'Dear Plaxico.'" Get it? It's people with scandals. And the joke is that the Post would let them write about those scandals. Ha! Stones, glass house, etc.
Have a tip we should know? tips@mediaite.com