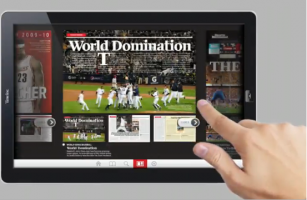 The "Hulu for magazines" joint venture spearheaded by John Squires officially has a name: Next Issue Media. According to Folio, the partnership has some real heavyweights behind it: Time Inc., Meredith, Hearst, Condé Nast and News Corporation. All of which represent some serious old media muscle, but will they be able to compete in the digital marketplace?
AllThingsD's Peter Kafka has a nice summary of the steep obstacles they will face, which include getting Amazon and Apple onboard and, well, creating a product that people want to buy:
They'll have to convince consumers who already have billing relationships with Amazon, Apple and other vendors to sign up with yet another service.
They'll have to convince device makers to play along with the strategy, which runs counter to many of their own plans. Both Amazon and Apple, for instance, have intentionally created closed systems that give them control of both devices and distribution.
They'll have to create content consumers want to buy. The new product can't simply be a digital version of the magazines they're already printing: That's already available on the Web, and consumers have shown almost no interest in paying for it, and advertisers haven't fully embraced it either.
At that, the New York Observer's John Koblin reports that John Squires has been a powerful driving force behind the venture; what Squires can accomplish by sheer force of will should not be underestimated.
A quick GoDaddy search reveals that nextissuemedia.com is registered to CooperKatz & Company, a "New York based marketing and public relations firm specializing in technology, financial and professional services, trade associations and consumer products," the name of which appears on some of the joint venture's press releases.
Have a tip we should know? tips@mediaite.com