NY Daily News Has New Shocking Claim Against Rep. Weiner: His Car Isn't Registered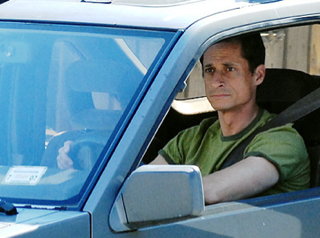 Rep. Anthony Weiner: serial sexter, compulsive liar, DMV delinquent? The New York Daily News photographed the likely-soon-to-be-ex-Congressman's Nissan Pathfinder and discovered that his registration sticker was expired, and further investigation with the Department of Motor Vehicles found that the license plate he had been using belonged on an old Honda– and the Nissan's license plates are nowhere to be found.
The story begins with the Daily News following Rep. Weiner around for comment on that other scandal he has going for him, when someone noted that his car's registration had expired, at least the sticker on the front of the car:
When Weiner (D-Queens, Brooklyn) was photographed by the Daily News fleeing the Capitol in his Nissan Pathfinder, it was clear the July 2007 registration sticker in his window was expired, and there was no inspection sticker to be seen. Weiner, through a staffer, said the 1988 Nissan Pathfinder was registered in New York State.

Not so, said the state Department of Motor Vehicles.

The New York license plate bolted on Weiner's Pathfinder – US Congress 9 – had expired as of 2006, according to the DMV.
That's not to say that the Nissan did not have license plates designated to it that had not expired. According to the NYDN, "it's unclear" where those plates are, but the ones the Nissan is currently sporting belong to a Honda that was registered to the Congressman. The Nissan's plates are not specialty Congress plates, which may explain why Rep. Weiner does not use them, but does not justify their use in the eyes of the DMV.
To add insult to the injury of this bizarre story, the Daily News acquired the expert commentary of an anonymous "retired Brooklyn accident investigator," which sounds suspiciously like "this one guy that happened to be walking past the office today" or "a friend of a friend's grandpa, who we heard worked with cars at some point." "Switching around license plates is what criminals do… If you are a Congressman, you aren't supposed to be switching out your plates," the Brooklyn accident investigator told the Daily News. Perhaps most astutely of all, the investigator concluded, "I guess that's the least of his worries."
It seems strange that the investigator refused to go on the record by name, possibly as strange as the fact that the Daily News cares about Rep. Weiner's car, of all things, yet the story serves as a cautionary tale to politicians who are contemplating lying to the press. Rep. Weiner's entire life is fair game now thanks to his willingness to lie with a straight face, and after the media treated his Twitter photo more delicately than crime scene evidence only to be rebuked for it, no lie is too small or petty to report.
Have a tip we should know? tips@mediaite.com