Proving, yet again, that there's no act so violent that it can't be dismissed as a lark with a galumphing pun, the New York Post featured the recent story about Russian protest group Pussy Riot being beaten and pepper-sprayed in Sochi on the cover of their late edition on Wednesday under the headline "Pussy Whipped!"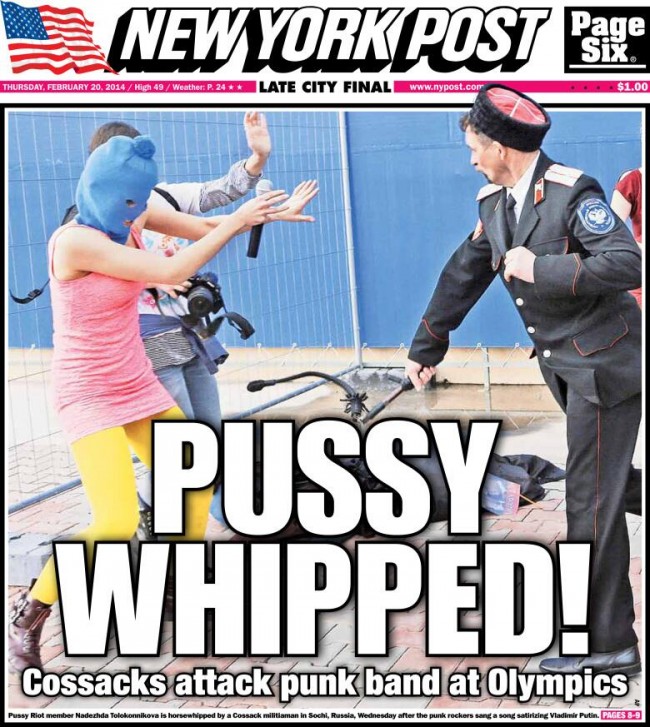 Their account of the incident frames the attack in more sober terms, calling it — appropriately — vicious and brutal.
The tabloid is, of course, no stranger to pushing the envelope when it comes to outrageous covers. Pushing the envelope directly into traffic, then filming its body being run over by a truck. They recently had to scrap a cover about newly acquired Japanese Yankees player Masahiro Tanaka flying a WW2-era bomber plane. Then there was the one about the murdered slum lord, and the woefully sexist Hillary Clinton cover, not to mention the suicide selfie cover, and, because why not, let's all fondly recall the cover image of the man about to crushed to death by an oncoming subway train. lol!
In other words, this is par for the course for the worst newspaper in America. The pussy-whipped cliché is actually one the Post have returned to multiple times in recent years, including this story about a dominatrix who rescues cats, this one about a family terrorized by a cat, and this one about the Project Runway star who threw a cat at her boyfriend. The only thing more offensive than being actually offensive is being lazy.
–- —
Luke O'Neil is a self-loathing journalist and blogger in Boston whose work has appeared in Esquire, Slate, The New Republic and many others. Follow him on Twitter (@lukeoneil47).
Have a tip we should know? tips@mediaite.com