NY Times' Andrew Ross Sorkin Writes Fictional Column Around His Breaking Bad Shout-Out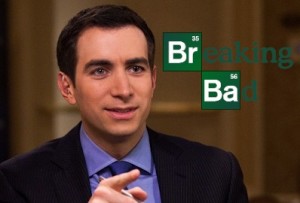 If you haven't been watching the final season of Breaking Bad, get on that. Also, don't read this because there are a ton of spoilers below.
In the series' penultimate episode yesterday, Walter White fled to New Hampshire and, after one desperate attempt to send money to his family, was prepared to give up. However, a cameo by Charlie Rose on TV changed all that.
In the show's fictional history, White was a co-founder of the company Gray Matter Technologies with Elliot and Gretchen Schwartz, but sold his shares for a pittance early on, only for the company to become much more profitable and successful in the years to come.
So when the story of Heisenberg goes public and the Schwartzes give millions to a drug abuse treatment center, people in the show's universe couldn't help but think it was done as a publicity stunt given their association with a meth kingpin. One such person was name-dropped by Rose: New York Times' Andrew Ross Sorkin, who apparently wrote a column about this in the show, and the real-life Sorkin decided to have some fun by writing the fictional column for us.
Sorkin plays it straight, with some great callbacks to the beginning of the show.
It remains unclear whether the Securities and Exchange Commission will investigate, but given the prominent nature of Mr. White and Gray Matter, which until now was considered a high-flier on Wall Street, it would be surprising if an inquiry were not opened. Mr. Schwartz, who won a Nobel prize for his scientific research, has parlayed that success into the celebrity spotlight, hobnobbing with A-listers. He was recently given as a gift a Stratocaster guitar autographed by Eric Clapton.

While Mr. White is said to have had a falling out with the Schwartzes, people briefed on the matter said, the two families had been in contact recently. A person close to both families said Mr. White and his wife were seen at the Schwartzes' estate for Mr. Schwartz's birthday party. Mrs. Schwartz was also seen at the White's home. The Schwartzes are said to have offered to rehire Mr. White, who declined the opportunity, these people said. Mr. White had sold his shares years before the company went public to the Schwartzes for $5,000.
Sorkin is a big Bad fan, and now with the fire of Walter White's ego burning after watching his former business partners disown him, this may be one of the most important New York Times pieces ever written in real or fictional history.
[photo via ~Siriusly, David A. Grogan]
— —
Follow Josh Feldman on Twitter: @feldmaniac
Have a tip we should know? tips@mediaite.com
Josh Feldman - Senior Editor