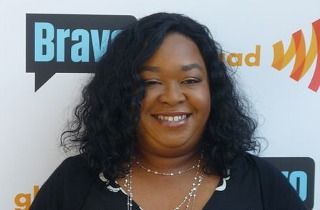 Alessandra Stanley, chief TV critic for the New York Times, may have really stepped in it with her latest column.
On Thursday the Times published a review by Stanley of the creative work by Shonda Rhimes, most known for the hit TV dramas Grey's Anatomy and Scandal. The lede of the column started some controversy.
A piece at Salon called it "very wrong." USA Today said the line was "not such a good idea." Rhimes herself has weighed in on Twitter.
What it said: "When Shonda Rhimes writes her autobiography, it should be called 'How to Get Away With Being an Angry Black Woman.'"
The "angry black woman" is a well-known stereotype of outspoken American black women. It's even something Michelle Obama has addressed.
Stanley's piece dovetailed on another upcoming TV drama produced by Rhimes that features a black female as the main character. The lead role in Rhimes's Scandal is also a black female (who is having an affair with the white U.S. president). Both characters are powerful and fiercely independent.
"How come I am not 'an angry black woman' the many times Meredith (or Addison!) rants?" Rhimes said in a series of tweets aimed at Stanley's piece. Meredith and Addison are the two white female lead roles cast in two separate dramas also created by Rhimes (Grey's Anatomy and Private Practice, respectively).
A spokeswoman for the Times sent Mediaite Stanley's response to the heat she received after her column published: "The whole point of the piece — once you read past the first 140 characters — is to praise Shonda Rhimes for pushing back so successfully on a tiresome but insidious stereotype."
More from Stanley's review, which is otherwise entirely favorable toward Rhimes:
Ms. Rhimes has embraced the trite but persistent caricature of the Angry Black Woman, recast it in her own image and made it enviable. She has almost single-handedly trampled a taboo even Michelle Obama couldn't break. …

Her heroines are not at all like the bossy, sassy, salt-of-the-earth working-class women who have been scolding and uh-uh-ing on screen ever since Esther Rolle played Florida, the maid on "Maude." …

And what is most admirable about Ms. Rhimes's achievement is that in a business that is still run by note-giving, nit-picking, compromise-seeking network executives, her work is mercifully free of uplifting role models, parables and moral teachings.
Stanley's past is not without controversy. In 2009, several of her own colleagues heavily criticized her for a column riddled with errors on the late veteran newsman Walter Cronkite.
Final thing: (then I am gonna do some yoga): how come I am not "an angry black woman" the many times Meredith (or Addison!) rants? @nytimes

— shonda rhimes (@shondarhimes) September 19, 2014
[Photo via Wikimedia Commons]
— —
>> Follow Eddie Scarry (@eScarry) on Twitter
Have a tip we should know? tips@mediaite.com