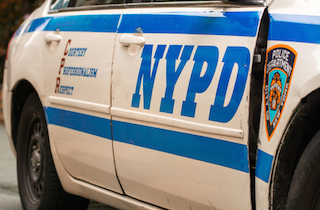 The New York Times editorial board went after the NYPD in a scathing editorial Monday accusing the police department of "passive aggressive contempt and self pity" in their protests against Gotham Mayor Bill de Blasio during officer Rafael Ramos' funeral on Saturday and at the NYPD graduation ceremony at Madison Square Garden yesterday.
"With these acts of passive-aggressive contempt and self-pity, many New York police officers, led by their union, are squandering the department's credibility, defacing its reputation, shredding its hard-earned respect," the board wrote. "They have taken the most grave and solemn of civic moments — a funeral of a fallen colleague — and hijacked it for their own petty look-at-us gesture."
The board acknowledged the thanklessness of an officer's task and the anxiety following the ambush-style murder of two NYPD officers in Bedstuy two weeks ago, the first deaths in the line of duty since 2011.
RELATED: The Problem with NYPD's Back-Turning Protest, in Two Tabloid Covers
But "none of those grievances can justify the snarling sense of victimhood that seems to be motivating the anti-de Blasio campaign — the belief that the department is never wrong, that it never needs redirection or reform, only reverence," the board countered. "It's not normal. Not for a professional class of highly trained civil servants, which New York's Finest profess to be."
Calling for the rank-and-file to follow Commissioner Bill Bratton's lead and work with rather than against City Hall, the Board wrote, "The police can rightly expect, even insist upon, the respect of the public. But respect is a finite resource. It cannot be wasted. Sometimes it has to be renewed."
[h/t New York Times]
[Image via pisaphotography / Shutterstock.com]
——
>> Follow Evan McMurry (@evanmcmurry) on Twitter
Have a tip we should know? tips@mediaite.com