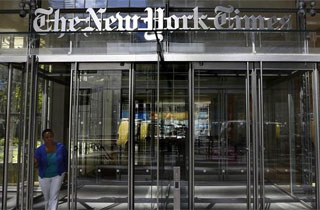 The New York Times review of Glenn Greenwald's new book, "No Place to Hide," prompted severe backlash, as readers attacked Michael Kinsley's full-throated argument that the government should control what journalists can and cannot print. And, to her credit, the Times's public editor, Margaret Sullivan, strongly agreed with them.
"Here's my take: Book reviews are opinion pieces and — thanks to the principles of the First Amendment — Mr. Kinsley is certainly entitled to freely air his views," she wrote. "But there's a lot about this piece that is unworthy of the Book Review's high standards, the sneering tone about Mr. Greenwald, for example; he is called a "go-between" instead of a journalist and is described as a "self-righteous sourpuss."
While she blasted the paper's own editors for allowing the argument to be made in the pages of the Times, she specifically took umbrage with this passage from Kinsley's review, which argues that only the government should decide what secrets can be leaked (emphasis ours):
The question is who decides. It seems clear, at least to me, that the private companies that own newspapers, and their employees, should not have the final say over the release of government secrets, and a free pass to make them public with no legal consequences. In a democracy (which, pace Greenwald, we still are), that decision must ultimately be made by the government. No doubt the government will usually be overprotective of its secrets, and so the process of decision-making — whatever it turns out to be — should openly tilt in favor of publication with minimal delay. But ultimately you can't square this circle. Someone gets to decide, and that someone cannot be Glenn Greenwald.
To Sullivan, this went entirely against the point of journalism, and the point of free speech:
There clearly is a special role for the press in America's democracy; the Founders explicitly intended the press to be a crucial check on the power of the federal government, and the United States courts have consistently backed up that role. It's wrong to deny that role, and editors should not have allowed such a denial to stand. Mr. Kinsley's argument is particularly strange to see advanced in the paper that heroically published the Pentagon Papers, and many of the Snowden revelations as well. What if his views were taken to their logical conclusion? Picture Daniel Ellsberg and perhaps the Times reporter Neil Sheehan in jail; and think of all that Americans would still be in the dark about — from the C.I.A.'s black sites to the abuses of the Vietnam War to the conditions at the Walter Reed Army Medical Center to the widespread spying on ordinary Americans.
Read the full takedown here.
[NYT]
[Image via Brendan Mcdermid / Reuters]
—
>> Follow Tina Nguyen (@Tina_Nguyen) on Twitter
Have a tip we should know? tips@mediaite.com