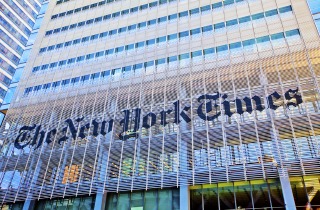 New York Times public editor Liz Spayd called out the paper in a blog post for completely ignoring Hillary Clinton's much-criticized Fox News interview in which she erroneously claimed the director of FBI said she had been "truthful" about her private email server.
Politifact and The Washington Post Fact-Checker both gave Clinton's claim their lowest marks ("Pants on Fire" and "Four Pinocchios," respectively). But despite her "misleading, bordering on false" claims being criticized by most other media outlets, Spayd points out that The Times didn't cover the story at all.
"If you're getting all your political news from The New York Times, this may be the first time you're hearing this," she wrote. "Clinton's remarks were covered by several major news organizations, several of which pointedly challenged the Democratic nominee's candor. But nothing on the interview ever appeared in The Times, either online or in print."
"For a candidate who had just emerged from a sharply choreographed convention, with a solid bounce in the polls, it was surprising that Clinton would prominently stumble over the email servers again, and on Fox. It was clearly news," she continued.
Spayd recognized that the story might have gotten lost in the deluge of recent Trump contraversies and outrage, but reiterated the need to cover both candidates' missteps. "As the general election unfolds, it's essential that whatever doubts linger about the candidates, these voters believe that The Times will give them the information they need to answer those questions," she said.
[Image via screengrab]
——
>>Follow Alex Griswold (@HashtagGriswold) on Twitter
Have a tip we should know? tips@mediaite.com