NY Times Public Editor Chastises Paper for Stealth-Editing Bernie Sanders Piece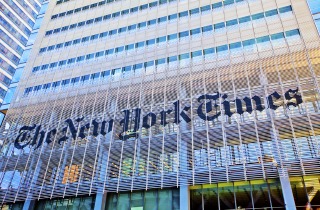 The New York Times public editor Margaret Sullivan took her paper to task Thursday after a piece about Democratic presidential candidate Bernie Sanders was updated to add negative paragraphs for seemingly no reason at all.
The original Times article "Bernie Sanders Scored Victories for Years via Legislative Side Doors," was a generally positive piece about how Sanders managed to score legislative victories in Congress despite being an independent. But after publication, the following two paragraphs were added without any indication from the Times that the piece had been updated.
But in his presidential campaign Mr. Sanders is trying to scale up those kinds of proposals as a national agenda, and there is little to draw from his small-ball legislative approach to suggest that he could succeed.

Mr. Sanders is suddenly promising not just a few stars here and there, but the moon and a good part of the sun, from free college tuition paid for with giant tax hikes to a huge increase in government health care, which has made even liberal Democrats skeptical.
Writing on her blog, Sullivan agreed with the Times' critics that adding those paragraphs clearly turned the piece from a positive story about Sanders to a negative one. "The changes to this story were so substantive that a reader who saw the piece when it first went up might come away with a very different sense of Mr. Sanders's legislative accomplishments than one who saw it hours later," she argued.
Sullivan said she asked the editors about the change, and they claimed that they wanted to add "nuance and depth" to the story. "Fair enough. But in this case, I don't agree," she responded.
"Given the level of revision, transparency with the readers required that they be given some kind of heads-up, and even an explanation," she said. "The Times has no workable way to do that kind of thing now… But online stories elsewhere and blog posts everywhere routinely carry time stamps and notifications that a story was updated, often with an explanation of why."
[Image via screengrab]
——
>>Follow Alex Griswold (@HashtagGriswold) on Twitter
Have a tip we should know? tips@mediaite.com