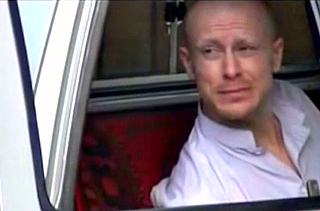 A report in the New York Times Wednesday morning called into question the claim advanced by many of freed Army Sgt. Bowe Bergdahl's fellow troop members that his disappearance, which may have been a desertion, had led to search and rescue missions that took the lives of service members, in addition to funneling needed resources and weakening defense capabilities against insurgent attacks.

"But a review of casualty reports and contemporaneous military logs from the Afghanistan war shows that the facts surrounding the eight deaths are far murkier than definitive," the Times wrote.
Regarding two deaths from an attack on a combat outpost in July, Nathan Bradley Bethea wrote in the Daily Beast that the Taliban chose the moment of attack to take advantage of the army's diversion of men and resources to the hunt for Bergdahl.
However, the Times reported, "Military officials, speaking in recent days, have countered that additional surveillance aircraft had been brought in from other areas to help in the search, so air traffic in the region was intensified, not diminished, by the search. Separately, context supplied by the leaked logs complicates claims that insurgents attacked the outpost because of the hunt."
RELATED: Fmr. Soldier: Military Told Unit to 'Not Tell the Truth' About Bergdahl
Six more service members were killed in the area of the search for Bergdahl between August and September, but the Times reported that the logs, though terse, mention no connection to Bergdahl, and that in fact the area was a Taliban hotbed where soldiers would have been patrolling anyway:
A retired senior American military officer, who was briefed at the time on the search for Sergeant Bergdahl, said that even though soldiers were instructed to watch for signs of the missing American, they would have been conducting patrols and performing risky operations anyway.

"Look, it's not like these soldiers would have been sitting around their base," he said.
The Times report does not question that the search for Bergdahl problematized the unit's mission, and quotes one fellow troop member splitting the difference between blaming Bergdahl and exonerating him:
The soldier who spoke on condition of anonymity agreed that it was "ludicrous" to lay 100 percent of the blame for the deaths at Sergeant Bergdahl's feet, and he acknowledged that patrols were going to get hit in Paktika during fighting season anyway.

But, he said, the reason he and his colleagues are angry is that too often that summer, the purpose of their patrols into dangerous areas was not ordinary wartime work like reconnaissance, maintaining a security presence, or humanitarian projects, but rather "to go look for this guy."
[h/t New York Times]
[Image via screengrab]
——
>> Follow Evan McMurry (@evanmcmurry) on Twitter
Have a tip we should know? [email protected]