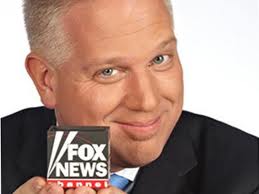 Glenn Beck is a lightning rod for attention of all sorts, and while he might be getting lower ratings from a year ago, is Fox News really considering life without him? That's the suggestion made by the NY Times' David Carr who cites anonymous Fox News officials, "that they are looking at the end of his contract in December and contemplating life without Mr. Beck." If accurate, then such a meteoric rise and fall might even put Keith Olbermann to shame, yet could it really be true?
Carr reports:
Beck has lost over a third of his audience on Fox — a greater percentage drop than other hosts at Fox. True, he fell from the great heights of the health care debate in January 2010, but there has been worrisome erosion — more than one million viewers — especially in the younger demographic.
However, Carr later points out that Beck "still has numbers that just about any cable news host would envy and, with about two million viewers a night, outdraws all his competition combined." One might think that would be the beginning and the end of the speculation, since what more should a television show be expected to do besides get more eyeballs watching them than any other show? However, Carr raises a separate intriguing point: not only does Fox not need Beck to continue to be successful, but Beck doesn't really need Fox either. Therefore, unless both sides are completely happy with the relationship, maybe a separation is possible?
Then, just in case the article is completely wrong, Carr mentions "But the partnership, which has been good for both parties, may yet be repaired." In other words, yes Beck and Fox News can survive without one another, but since the relationship is highly profitable and consistently headline generating for all involved, might Carr's conjecture be nothing more than an attempt to stir the pot?
Check out the full article.
Have a tip we should know? tips@mediaite.com