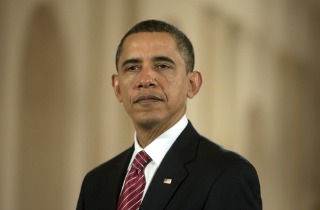 The New York Times editorialized Friday against President Barack Obama's assertion that he can escalate military action against the Islamic terrorist network ISIS without approval from Congress.
In a speech earlier in the week, Obama laid out his plan to "degrade and destroy" ISIS, which included airstrikes on elements of the network in Syria in addition to airstrikes already underway in Iraq. Obama called on Congress to vote approving his plan but maintained that he has the authority to act without Congress under existing law.
The Times warned in its editorial that Obama would be setting "a dangerous precedent" and that acting without Congress would be "unjustifiable."
From the Times:
The cowardice in Congress, never to be underestimated, is outrageous. Some lawmakers have made it known that they would rather not face a war authorization vote shortly before midterm elections, saying they'd rather sit on the fence for a while to see whether an expanded military campaign starts looking like a success story or a debacle. By avoiding responsibility, they allow President Obama free rein to set a dangerous precedent that will last well past this particular military campaign.

Mr. Obama, who has spent much of his presidency seeking to wean the United States off a perpetual state of war, is now putting forward unjustifiable interpretations of the executive branch's authority to use military force without explicit approval from Congress …

If lawmakers approve military action, the authorization should be narrowly defined for the explicit purpose of battling ISIS, perhaps limited in time and geography. Any such document should not leave this president or his successor the ability to get the United States into wars without the people's consent.
[Photo via Shutterstock]
— —
>> Follow Eddie Scarry (@eScarry) on Twitter
Have a tip we should know? tips@mediaite.com