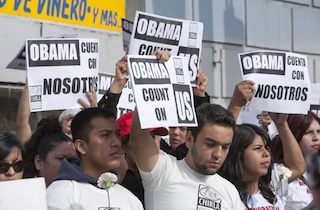 President Barack Obama has one major voice on his side in the run-up to his announcement of executive action on immigration: The New York Times editorial board.
Noting that "only Congress can create an immigration system that rescues workers and families from unjust laws and creates legal pathways to citizenship," the board nonetheless praised Obama for finally sidestepping the hopelessly gridlocked institution and employing his executive powers to make what repairs he could.
"Over the years [Obama] stressed his executive impotence, telling advocates that he could not change the system on his own," the board wrote Wednesday. "This may have suited his legislative strategy, but it was not true."
RELATED: WH Official Palmieri: Obama's Not 'Tearing Up the Constitution' on Immigration
The board also commended Obama for abandoning hope of legislative compromise with congressional Republicans, citing the latter for prizing political cynicism over good policy, not to mention hypocrisy. "The right will falsely label Mr. Obama's actions lawless," the board wrote. "They are a victory for problem-solving over posturing, common sense over cruelty, and lawful order over a chaotic status quo."
This is in stark contrast to the Washington Post editorial board's take from several days ago, which challenged immigration activists praising Obama's move to imagine a similar scenario under President Ted Cruz (R-Fat Chance). The Post conceded that Obama may have the technical legal authority for the new actions, but that doing so will nonetheless imperil the legitimacy of law overall.
"Mr. Obama may find a constitutional way to rewrite the nation's immigration laws," the Post wrote. "But in his frustration with democracy, he is likely to prove his point: Unilateralism will not make the system work."
[Image via Jose Gil / Shutterstock.com]
——
>> Follow Evan McMurry (@evanmcmurry) on Twitter
Have a tip we should know? tips@mediaite.com