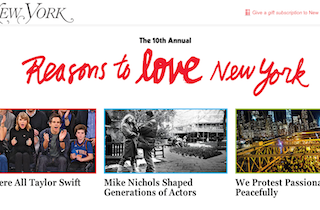 New York Magazine published an article in its most recent Reasons to Love New York issue that appeared too good to be true, and boy was it.
The inspiring (and infuriating to anybody older than 18) story of Mohammed Islam, a Stuyvesant High School senior who was said to have made $72 million in the stock market before he could legally buy smokes, was quickly questioned after its publication, with the outsized figure drawing especial scrutiny. The magazine changed the headline, but the rest of the story proceeded to unravel after Islam and his partner came clean to the New York Observer.
Too late: the story had already gone viral, even making it onto the cover of the New York Post. Through last night NYMag and the author Jessica Pressler were standing by the meat of the story, if not the $72 million headline. Pressler said she had been shown Islam's 7-figure bank statements, and was confident he had made a sizable fortune in the stock market — though no one seems entirely sure where the $72 million figure came from.
But according to what he told the Observer, he never made a cent. In the Observer's article, the two boys portrayed as young braggarts whose boast got way, way, way out of control, though if bank statements were falsified they're a tad more culpable than that.
The article is now preceded by the following retraction:
In the most recent edition of New York, its annual Reasons to Love New York issue, the magazine published a story about a Stuyvesant High School senior named Mohammed Islam, who was rumored to have made $72 million trading stocks. Islam said his net worth was in the "high eight figures." As part of the research process, the magazine sent a fact-checker to Stuyvesant, where Islam produced a document that appeared to be a Chase bank statement attesting to an eight-figure bank account.

After the story's publication, people questioned the $72 million figure in the headline, which was written by editors based on the rumored figure. The headline was amended. But in an interview with the New York Observer last night, Islam now says his entire story was made up. A source close to the Islam family told the Washington Post that the statements were falsified. We were duped. Our fact-checking process was obviously inadequate; we take full responsibility and we should have known better. New York apologizes to our readers.
NYMag's apology is the second high-profile retraction of the past month, coming shortly after Rolling Stone apologized for its piece on a rape at UVa.
[h/t NYMag]
[Image via screengrab]
——
>> Follow Evan McMurry (@evanmcmurry) on Twitter
Have a tip we should know? tips@mediaite.com