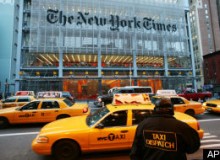 The NYT Co. is reporting that it made a profit last quarter. A PROFIT. In this media climate? Is that even possible? Well, sort of. From today's Times:
The New York Times Company on Thursday reported second-quarter net income of $39.1 million, up from $21.1 million in the period a year earlier, as another steep drop in advertising revenue was largely offset by aggressive cost-cutting.

A favorable tax adjustment inflated the earnings in the most recent quarter. But even discounting that factor, Thursday's results marked a return to profitability — albeit slight — after a first-quarter loss of $74.5 million.
Sounds good right? Well, until you get down to this part of the article, anyway:
Overall operating revenue in the quarter was $584.5 million, down 21.2 percent. At the New York Times Media Group, revenue fell 21.8 percent, to $374.8 million. At the New England Media Group — primarily The Boston Globe — it dropped 19.2 percent, to $109.4 million.

While overall revenue fell short of analysts' expectations, so did expenses. The company cut operating costs 20 percent from a year earlier, or by $140.5 million; $29 million of that reduction came from the closure early this year of City and Suburban, a money-losing newspaper and magazine distribution subsidiary.
So basically, the NYT Co. was able to cut more from their spending than they lost in profits. Which is better than if they hadn't done so, but perhaps not quite so fantastic as some headlines might suggest. Over at AllThingsD, Peter Kafka is not exactly spouting rainbows and unicorns either.
The Times posted an operating profit of $23.3 million; without one-time charges that number would have been $66.1 million. That's worse than the $100 million the paper made a year ago, but much better than the $74.5 million it lost (net) in Q1.

But! Ad revenue declined 31.9 percent, an acceleration from last quarter's 28 percent drop. In addition to the regular culprits, the Times noted a "lower volume of online advertising." More details on that: Internet revenue dropped a shocking 14.3 percent, and Internet ad revenue was down 15.5 percent; last quarter they were down 5.6 percent and 6.1 percent.
Short version: if the NYT Co. keeps tightening its belt they might be okay, but not okay enough to rule out a subscription fee in the nearish future.
Have a tip we should know? tips@mediaite.com