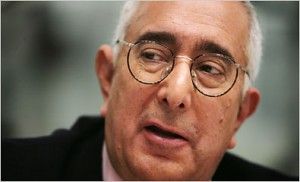 [Insert obligatory respectful John Hughes R.I.P. "Bueller, Bueller" lede here]
The New York Times has ended its relationship with Ben Stein, a sporadic contributor since the early '80s and lately a Sunday Business columnist, according to Gawker.
Stein was released after his appearance in advertisments for the credit-report service FreeScore.com violated Times ethics policy (video below).
Stein has appeared in advertisements before, most regularly for Clear Eyes, a brand of eye drops that presented no such ethical problems. Reuters blogger Felix Salmon noted in July, however, that Stein had sunk to a new level:
Stein, here, has become a predatory bait-and-switch merchant, dangling a "free" credit report in front of people so that he can sock them with a massive monthly fee for, essentially, doing nothing at all. Naturally, the people who take him up on this offer will be those who can least afford it.
Salmon suggests that Stein's work for FreeScore.com violates the sections of the Times' ethics code that says, "It is an inherent conflict for a journalist to perform public relations work, paid or unpaid… [and] Staff members may not engage in financial counseling (except through the articles they write). They may not manage money for others, offer investment advice, or help operate an investment company of any sort, with or without pay."
Times spokesperson Catherin Mathis told Gawker that Stein didn't think his advertising work would present a conflict of interest or an ethics violation because he hadn't written about credit scores for the paper, "But, we decided that being a commercial spokesman for FreeScore while writing his column wouldn't be appropriate," she said.
Ben Stein's FreeScore.com advertisement:
A less contentious advertisement:


Stein's most infamous on-screen work:



Photo: The Associated Press
Have a tip we should know? tips@mediaite.com