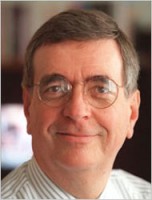 The entirety of Clark Hoyt's Public Editor column in Sunday's New York Times is devoted to the controversy surrounding Ethan Bronner, the Times' Jerusalem bureau chief, whose son recently enlisted in the Israeli military. After much deliberating, Hoyt decided that although Bronner "has done nothing wrong," he should be reassigned due to the appearance of bias; executive editor Bill Keller responded gracefully, but wrote "we will not be taking your advice." It's a tough call all around.
Hoyt seems to sway back and forth in his column, citing respected experts on each side, all who note that Bronner is indeed a great reporter and could likely continue to do his job fairly. "But this is not about punishment; it is simply a difficult reality," Hoyt writes. "I would find a plum assignment for him somewhere else, at least for the duration of his son's service in the I.D.F."
Times editors have a different take: "He's a 20-year-old who makes his own decisions," they said of Bronner's son, while "Bronner said he had alerted his editors, as the paper's ethics guidelines require." As noted by NYT Picker, the guidelines are vague, leaving much room for interpretation about the allegiances of family members and the objectivity of reporters.
"Bronner occupies one of journalism's hottest seats, covering the intractable conflict between Israelis and Palestinians," Hoyt explains. "As the top correspondent for America's most influential newspaper, everything he writes is examined microscopically for signs of bias." But Keller insists: "We have the utmost confidence that his work will continue to meet the highest standards." Even if Bronner's son were a foot soldier, Keller would remain in support of Bronner, stating, "I don't think I'd have any problem with Ethan covering the conflict."
In response to Hoyt's ultimate prescription, Keller writes to Hoyt, "You seem to think that you (and Alex Jones) can tell the difference between reality and appearances, but our readers can't. I disagree." He provides a spirited defense of Bronner keeping his job.
In all, the situation is one of the most difficult ethical quandaries a newspaper can imagine, especially considering the brightness of the spotlight on this particular stage. Both Hoyt and Keller provide carefully reasoned positions and both of their columns are worth reading as a transparent window into the Times, where editors both discuss and disagree.
Too Close to Home [New York Times]
Bill Keller Takes Exception to "Too Close to Home" [New York Times]
Have a tip we should know? tips@mediaite.com