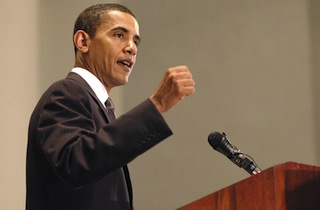 Writing in the Israeli paper Haaretz, President Barack Obama argued strongly for a peaceful settlement between Israel and Palestinian authorities that creates an independent Palestinian state, believing it was the "only path" for both a secure Israel and a toned-down Middle East.
"As I said last year in Jerusalem, peace is necessary, just, and possible," Obama wrote. "I believed it then. I believe it now. Peace is necessary because it's the only way to ensure a secure and democratic future for the Jewish state of Israel…Refusing to compromise or cooperate with one another won't do anything to increase security for either the Israeli or the Palestinian people. The only solution is a democratic, Jewish state living side-by-side in peace and security with a viable, independent Palestinian state."
RELATED: Fareed Zakaria Compares Current Israeli Conflict to Lead-Up to WWI
Obama insisted peace was possible, despite frustrating talks between the two sides brokered by Secretary of State John Kerry. Obama pledged the continued support of the United States any time the two parties were willing to come to the table. "While we were disappointed that the tough decisions weren't made by both parties to keep moving the peace process forward, the United States will never give up on the hope of a lasting peace, which is the only path to true security for Israel," he wrote.
Obama also expressed sympathy for the four teens, three Israeli and one Palestinian, killed in what appears to be a recent bout of strife between Israel and Palestine, and he urged both sides to ratchet down the rhetoric of vengeance. "At this dangerous moment, all parties must protect the innocent and act with reasonableness and restraint, not vengeance and retribution," Obama wrote.
Read the full op-ed HERE.
[Image via Ryan Rodrick Beiler / Shutterstock.com]
——
>> Follow Evan McMurry (@evanmcmurry) on Twitter
Have a tip we should know? [email protected]