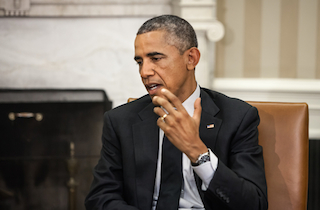 In an op-ed in the Los Angeles Times today, President Barack Obama touted the start of a counterterrorism summit, a three-day conference in which foreign officials and community leaders meet to address the multifaceted problem of terror in the wake of attacks in Sydney, Paris, and Copenhagen.
Obama plans to stress community initiatives his administration believes will better assimilate disaffected youth, foreclosing the desire to join terrorist organizations or act as lone wolf actors in sympathy with them.
"We know from experience that the best way to protect people, especially young people, from falling into the grip of violent extremists is the support of their family, friends, teachers and faith leaders," Obama wrote. "At this week's summit, community leaders from Los Angeles, Minneapolis and Boston will highlight innovative partnerships in their cities that are helping empower communities to protect their loved ones from extremist ideologies."
The summit has drawn criticism from Muslim groups who view it as stigmatizing, even as critics lambast the administration for not using the term "Islamic terrorism" when discussing attacks.
Obama's op-ed will do nothing to dissuade the latter group, emphasizing inclusion and combatting the idea that terrorism is inherent or specific to Islam.
"With al Qaeda and ISIL peddling the lie that the United States is at war with Islam — all of us have a role to play by upholding the pluralistic values that define us as Americans," Obama wrote. "This week, we'll be joined by people of many faiths, including Muslim Americans who make extraordinary contributions to our country every day. It's a reminder that America is successful because we welcome people of all faiths and backgrounds."
And just as in his controversial remarks at the National Prayer Breakfast two weeks ago, Obama was careful to keep the definition of extremism wide enough to include non-Muslim actors. "That pluralism has at times been threatened by hateful ideologies and individuals from various religions," he wrote. "We've seen tragic killings at a Sikh temple in Wisconsin in 2012 and at a Jewish community center in Kansas last year."
"With this week's summit," he concluded, "we'll show once more that — unlike terrorists who only offer misery and death — it is our free societies and diverse communities that offer the true path to opportunity, justice and dignity."
[h/t Los Angeles Times]
[Image via Mykhaylo Palinchak / Shutterstock.com]
——
>> Follow Evan McMurry (@evanmcmurry) on Twitter
Have a tip we should know? tips@mediaite.com