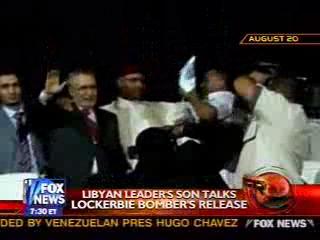 The release of the Lockerbie bomber continues to provide new storylines, as details unravel about potential oil-related motives.
Although the news has not gotten nearly as much coverage here in the United States as it is has in the U.K., as more comes out the story is likely to gain more traction within the U.S.
The New York Times reports today BP (British Petroleum) is preparing to drill its first well off the coast of Libya in more than 30 years. The short article doesn't get into the reason why BP is suddenly allowed to drill there, but it does mention "the deal has raised political questions after the Scottish government's Aug. 20 decision to free on compassionate grounds" Ali al-Megrahi.
Furthering this storyline is a Wall St. Journal article about the brother of the judge who released al-Megrahi. Scottish Justice Secretary Kenny MacAskill's brother, Allan, has "worked for several companies that sought oil business in Libya." This all may be coincidence, as Allan maintains, but it still raises doubts about the motive behind the abrupt release of this convicted terrorist.
There are still questions about British Prime Minister Gordon Brown's involvement in the decision, which he continues to deny. But if more information emerges about Brown potentially being linked to some deal securing al-Megrahi's release, it will only raise the stakes, and the coverage.
On cable news in the United States, the story has gotten some, but not much, coverage. From Friday-Monday, the story was mentioned 34 times on Fox News, 9 on CNN and 6 on MSNBC (according to TV Eyes). FNC has clearly covered the story the most, but expect even more as further details emerge. This is an international story, but has strong implications here in the U.S. Because 189 of the 270 victims were Americans, and many college students, the release brought a strong reaction at the time. But if the deal to release this terrorist was tied to an oil deal in any way, the media in America is likely to increase coverage, as outrage reaches a higher level than before.
—–
» Follow Steve Krakauer on Twitter
Have a tip we should know? tips@mediaite.com