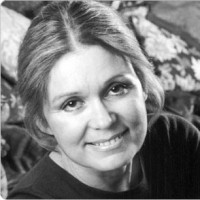 Who: Gloria Steinem and Farai Chideya, moderated by Gail Collins (New York Times)
What: TimesTalks' "Changes in Women's Lives"
Where: The Times Center
When: October 13, 2009
Thumbs: Up
Feminist activist Gloria Steinem suggested that women get together regularly to discuss their communal and individual roles. This gathering, it seemed, served that purpose for many in attendance. It provided a place for them to express their anger, frustration, doubt and confusion over modern-day feminism.
The audience was comprised of mostly women. They shared in the discussion, actively engaging through the night, nodding along with panelists' points, clapping, and voicing audible agreement to express their approval. In certain ways, Steinem and the other panelists were tasked with setting the agenda and the discussion for the hundreds of assembled women to consider, reflect on and debate.
Farai Chideya represented a younger generation of feminism than Steinem and Gail Collins. Chideya said that the expectations thrust on her and her peers have led to disappointment and disillusionment among women. Steinem suspected that current female unhappiness could be tied into this reality. Steinem's movement bred pride, pleasure and strength that today's women don't experience as prominently.
There's new ground to be broken, they agreed. While Steinem didn't think Hillary Clinton stood a chance of winning last year, she said it did allow Americans to imagine the possibility of a female President. She suspected, though, that that candidate will come on the conservative side where she'd be able to "sell out" instead of "represent."
As they looked to the future, they considered both the benefits and drawbacks of technology. Steinem pointed to the power of mommy bloggers to get their voice out. Chideya worried about how social media will inhibit teenage girls from forming their identities since every picture and comment is stored.
And then they turned the microphones over to the audience who solicited advice and shared their thoughts and impressions. The Q&A was only the start, as conversation continued afterwards when people headed out the doors. We suspect the discussion is continuing on today as last night's crowd assembles friends and colleagues for their own audiences.
What They Said
"I think that as women we spend so much time trying to change ourselves, and that's exhausting."
– Farai Chideya urges women to develop the confidence to compete and succeed
"The times I'm happiest don't have to do with accomplishment but they have to do with feeling connected."
– Gloria Steinem says that first and foremost you have to be secure with yourself within a community
"I think if you go to the Rayburn Building (link to http://www.aoc.gov/cc/cobs/rhob.cfm) you encounter more sexism than at strip clubs."
– Farai Chideya believes that the government hasn't done enough to promote equal rights and fair treatment for women
"I used to work at New York Magazine where they said 'You write like a man' and I was like 'Thank you.'"
– Gloria Steinem reflects on how much she's learned and changed since her twenties
"Good sex is feminist. Bad sex is just bad sex."
– Farai Chideya recruited a lot of new feminists
What We Thought
Collins added some relevant stories from her years of interviewing women of all ages and backgrounds. She didn't just lead the talk with questions, she contributed to it with cogent points based on real examples.
Steinem put a cheerful twist on the storm over today's teens' revealing clothing. She said that only in equal societies can women uncover like that and still feel safe.
We enjoyed the panel's discussion about how women rely heavily on persuasion to dictate their effectiveness in the workplace. Steinem says that she regrets being so nice and cordial. It's what led women to rely on what they knew already instead of going after something different.
PANEL RULES!
Some audience behavior seems to repeat itself panel after panel. We'll be updating a running list of "PANEL RULES!" that will help ensure that you are not the dweeb of the Panel Nerds.
Panel Nerds don't like…Maling It In
Gloria Steinem is famous for her efforts in the 1960s and 1970s in making progress for equal rights. At that same time, Abbie Hoffman was leading the Yippies. Just because the two may have crossed paths at the 1968 Chicago democratic convention doesn't mean that Steinem has feelings about Hoffman or his movement today. There's no need to ask about him, especially at an event focused on women's issues. You were the lone man to ask a question at the panel and your question was way off-base. What's that say about men and feminism today?
Have a tip we should know? tips@mediaite.com