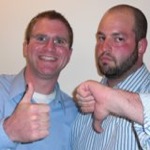 Who: Sidney Lumet & Jenny Lumet, moderated by Joe Morgenstern
What: The Wall Street Journal's "Movie Night with the Lumets"
Where: Walter Reade Theatre
When: July 21, 2009
Thumbs: Way Down
It's difficult to spoil a night of discussing movies with legendary director Sidney Lumet and "Rachel Getting Married" scribe Jenny Lumet, but "Movie Night with the Lumets" proved that although difficult, it is not impossible. The evening was moderated by Wall Street Journal film critic Joe Morgenstern who badly mishandled the event by structuring it around the viewing of an inordinate number and seemingly unrelated group of movie clips. For much of the evening, Morgenstern and the Lumets simply sat in directors chairs, watching the 30 or so pre-selected clips. It all had the feel of a much less interesting VH1 special; let's call it "I Love Joe Morgenstern Talking About Movies."
The weak structure probably still could have worked, though, if the audience would have been given a little more information and background. The vast majority of movie clips were played with no setup at all. Instead of telling the audience what movie clip was about to be screened or why he was screening it, Morgenstern often declared "let's see the next clip," and summed it up with "don't you just love that?" He did not do nearly enough to clue the audience in to what was being discussed, nor did he amply mine father or daughter Lumet for insight. Morgenstern and Sidney Lumet also had too many discussions of individual people without explaining who they were. A five minute discussion on "Pauline," turned out to refer to New Yorker critic Pauline Kael, but it took a Google search after the event to find that out. Google was not as immediately generous in discerning the "Candy" who was discussed for another few minutes.
The disappointing panel was even more of a shame because the isolated moments of interesting discussion were riveting. Sidney Lumet delved into two real topics – the technological advances of digital film making, which he loves for color presentation, and the importance of tempo to story telling, and how he likes to make the audience work. Mr. Lumet was also able to describe intricate questions about scenes from movies shot decades ago and acting techniques of old stars like Paul Newman, Errol Flynn, Marlon Brando, and Spencer Tracy. But those moments were too few and far between in the two hour discussion. Mrs. Lumet, who was so expressive in her speaking that she seemed to sit actively, was also wasted. There is no doubt Mrs. Lumet could have added much to the conversation, but next to her father and Mr. Morgenstern, she often came off as the youngster peppering the adults with questions as they showed off slides from their vacation.
What They Said
"It's apt now, much more than having a black president."
– Jenny Lumet explaining why she is pushing her father to direct Othello.
"Don't pick a kids movie, pick what you like… they'll at least get a connection to you."
– Sidney Lumet offering some fatherly advice for family movie nights.
"This next movie, I hope needs no introduction and we'll certainly not get one."
– Joe Morgenstern introduces a clip to a movie. We can't tell you which movie because it apparently needed no introduction.
"Most critics know nothing about movies, in terms of how they're technically put together."
– Sidney Lumet explaining his general frustration with critics, and why he invited critic Pauline Kael to see how he made movies.
"I married a Latin man because of Raul Julia."
– Jenny Lumet, in what we hope wasn't new information for her in-audience husband, explaining  the extent of her love for old movies
What We Thought
This whole evening would have probably been better as a conversation between father and daughter. Jenny Lumet had a lot of questions for her father about his films and decisions. With Morgenstern there, her inquisitiveness was not put to good use. We would have much rather watched an up and coming writer ask questions to a brilliant director. The moderator here only took away from the evening.
Because Morgenstern set the order of movie clips beforehand, there was no way for him to tailor his questions to the actual tempo of the discussion. Instead, he would wait for the conversation to die down and then ask for the next clip.
Joe Morgenstern showed clips that neither Sidney nor Jenny Lumet had ever seen before. What was possibly the point of that?
A number of people walked out early. That's always a very bad sign.
PANEL RULES!
Some audience behavior seems to repeat itself panel after panel. We'll be updating a running list of "PANEL RULES!" that will help ensure that you are not the dweeb of the Panel Nerds.
Panel Nerds don't like…. Bogarting Moderators
Don't bogart the mic, moderators; Let the audience take a turn – This panel featured no questions from the audience. Uncool, moderator. Uncool.
Want the Panel Nerds to cover your panel? Email them here: PanelNerds@mediaite.com
Have a tip we should know? tips@mediaite.com