Paper Of Re-Record: New York Times Softens Criticism Of President Obama And Glenn Greenwald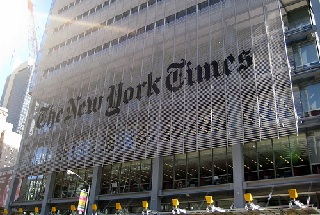 On Thursday, The New York Times editorial board rocked the political media's world by proclaiming that the recent revelations about the National Security Agency's data mining operation demonstrate that "The (Obama) administration has lost all credibility."
Thursday evening, though, Gawker's Cord Jefferson flagged a pretty major change to that bombshell editorial, one which softened the blow considerably. In a fascinating parallel, the Times also appears to have softened up the headline of an article about The Guardian's Glenn Greenwald, who has been publishing the NSA leaks.
First, here's the change that Gawker flagged:
This evening, after a full day of news outlets sharing the Times editorial, and after the Guardian dropped yet another bombshellabout governmental spying, the website NewsDiffs (and others) are reporting that theTimes editorial board appears to have quietly crept into its now famous rebuke and, for reasons undeclared, updated the claim that the administration is no longer credible. The sentence now reads, "The administration has now lost all credibility on this issue," which is quite a different statement altogether. The paper also seems to have added sentences referencing the new Guardian article.
The current piece contains no mention of the changes.
What's fascinating is that the paper also seems to have softened the headline of a June 7 article about Glenn Greenwald, who has been publishing the NSA leaks. The headline of an early draft of the article appears to have been "Anti-Surveillance Activist Is At Center Of New Leak," which was apparently changed prior to publication. That early headline, however, is still visible in the article's URL slug, which currently reads "anti-surveillance-activist-is-at-center-of-new-leak."
There's nothing nefarious about the fact that it was changed; often, online publishers will change a headline prior to publication, and forget to update the URL. But the contrast with the eventual headline appears to  demonstrate a caution similar to the one that prompted the change to the editorial. Instead of a headline that implies Greenwald has an ax to grind, and unsubtly suggests it might color his reporting, the piece is titled "Blogger, With Focus on Surveillance, Is at Center of a Debate."
The article, in its current form, is little more than a summary of the NSA story, followed by a bland bio of Greenwald. That URL slug, however, makes you wonder what the first draft must have looked like.
The New York Times isn't the only paper to rethink its reporting on the NSA story. The Washington Post also published a story with a headline claiming NSA "wiretapping," then changed the headline without noting the discrepancy.
Update: Politico has this statement from The NYT:
"The change was for clarity's sake," Andrew Rosenthal, the Times editorial page editor, told POLITICO on Friday morning. "It was clear from the context of the editorial that the issue of credibility related to this subject and the final edit of the piece strengthened that point."
Have a tip we should know? tips@mediaite.com