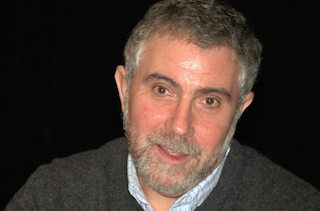 It may come as some relief to the Republican Party, often accused of holding deep resentment toward non-white Americans, that at least the New York Times's Paul Krugman doesn't think it's racist. Though, that won't stop him from putting it out there that it might be.
In his column Monday, Krugman writes on the political success elected Republicans have had in passing cuts to extended unemployment benefits.
Though the GOP usually says such cuts are motivated by a desire to limit government dependency, Krugman says there's "always" the possibility that race is a factor:
Is it race? That's always a hypothesis worth considering in American politics. It's true that most of the unemployed are white, and they make up an even larger share of those receiving unemployment benefits. But conservatives may not know this, treating the unemployed as part of a vaguely defined, dark-skinned crowd of "takers."
But hey, that's just a theory that's out there. It isn't his theory:
My guess, however, is that it's mainly about the closed information loop of the modern right. In a nation where the Republican base gets what it thinks are facts from Fox News and Rush Limbaugh, where the party's elite gets what it imagines to be policy analysis from the American Enterprise Institute or the Heritage Foundation, the right lives in its own intellectual universe, aware of neither the reality of unemployment nor what life is like for the jobless. You might think that personal experience — almost everyone has acquaintances or relatives who can't find work — would still break through, but apparently not.
Well, that's at least better than being accused of hating black people.
[Photo via Wikimedia Commons]
— —
>> Follow Eddie Scarry (@eScarry) on Twitter
Have a tip we should know? tips@mediaite.com