Pew Survey Finds That Muslims Feel Targeted, But Are Happier With Conditions Than Broader U.S. Public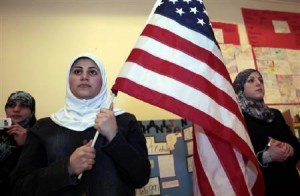 A new survey released by the Pew Research Institute today reports that the majority of Muslim Americans are disavowing of religious extremism, maintain an upbeat view of American policy, and are about as educated and religious as the rest of the American public. And while a majority of Muslim Americans feel singled out by anti-terrorism policies, they are increasingly satisfied with the way things are going in the U.S. and within their communities — a sentiment that runs counter among an increasingly dissatisfied broader American public.
Last run in 2007, this latest survey comes in approach of the 10th anniversary of the 9/11 attacks, and at a time when homegrown terrorism is of increased concern following recent attacks in Fort Hood, Norway and Tucson. According to the Pew Survey, the Muslim American community does appear to be an increased risk.
According to the survey, 52 percent of Muslim Americans polled feel that Muslims are singled out by anti-terrorism policies, and that 43 percent have experienced harassment personally — a number that is up from 40 percent in 2007. Most report being treated with suspicion, at the air port or by law enforcement agents in particular, and less say they have been physically threatened or attacked.
Pew finds, however, that the Muslim American community does not pose particular threat:
A significant minority (21%) of Muslim Americans say there is a great deal (6%) or a fair amount (15%) of support for extremism in the Muslim American community. That is far below the proportion of the general public that sees at least a fair amount of support for extremism among U.S. Muslims (40%). And while about a quarter of the public (24%) thinks that Muslim support for extremism is increasing, just 4% of Muslims agree.
The disparity in these numbers might help explain what Hope Yen, in writing for the AP, calls continued "U.S. struggles to talk about religion in the context of terrorism." She points to the tension surrounding plans to build a mosque near the Ground Zero site and in recent moves by the NYPD and CIA to further surveil Muslim communities as signs of "stirred emotions."
Regardless, Muslim American's maintain a notably upbeat sentiment. The survey finds that they are more likely than not to view U.S. anti-terrorism policies as sincere, and a very high percentage — 79 percent — rate their communities as "good" or "excellent," "even among many who reported an act of vandalism against a mosque or a controversy over the building of an Islamic center in their neighborhoods."
Of the results, Pew President Andrew Kohut said that, "I was concerned about a bigger sense of alienation, but there was not. You don't see any indication of brewing negativity. When you look at their attitudes, these are still middle-class, mainstream people who want to be loyal to America."
Have a tip we should know? tips@mediaite.com