'Twas early on Tuesday morning when Michael Smith of Maine discovered a tree removal company on his property, presumably removing trees or some such. For some reason Smith was shirtless despite the freezing temperature (presumably because it was Maine, or some such), and he yelled at the company to get off his lawn.
They left, but minutes later, the Maine police showed up. With guns. And snipers. And dogs.Like he was some dangerous criminal who threatened the tree removal company with a handgun.
Smith of course had no gun, but what he did have was a tattoo of a gun that looked as if it were tucked into his waistband (see below):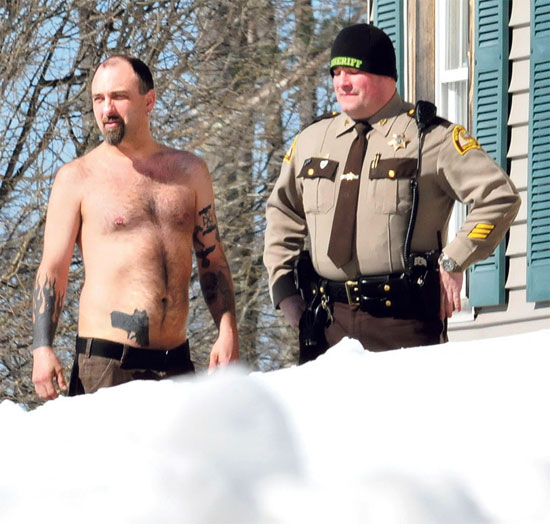 The Maine Police apologized profusely, and explained that they were just doing their jobs: "Obviously it was a misunderstanding and he didn't have a weapon, but we had to respond to the initial report as if he did," Maine State Police Trooper Scott Duff told the Morning Sentinel. "We take all precautions when we don't have the details."
For Smith's part, he explained that he was simply a grumpy Mainer who just wanted to get on with his life: "I got plans today. I didn't want to get shot." What a funny mix-up!
Lesson of the day: Always wear a sweater! It will prevent people from being scared of your gun tattoo, and also prevent hypothermia.
[UPDATE: The headline of this article was updated to reflect the reported fact that Smith was not arrested.]
[The Morning Sentinel h/t Gawker]
[Image credit via Dave Leaming/ Morning Sentinel]
>> Follow Tina Nguyen (@Tina_Nguyen) on Twitter
Have a tip we should know? tips@mediaite.com