Piers Morgan Reacts To BBC Journo's Claim He Taught How To Hack Phones: 'Ungrateful Little Wretch'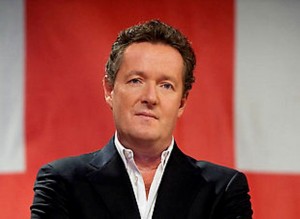 BBC television personality Larry Paxman testified before a British government panel inquiry Wednesday, claiming that CNN host and former Daily Mirror editor Piers Morgan shared specific instructions on how to hack into people's cell phones.
Reports The Los Angeles Times:
The BBC's Paxman recalled telling Morgan during a 2002 lunch that he was wholly unfamiliar with phone hacking. "He then explained the way to get access to people's messages was to go to the factory default setting and press either 0000 or 1234," Paxman told the so-called Levenson inquiry, "and that if you didn't put on your own code, his words, 'You're a fool.' "
RELATED: Is Piers Morgan Getting Dragged Into UK Phone Hacking Scandal?
Paxman also testified that Morgan had joked about a conversation regarding an affair between a TV personality and soccer manager:
In the more recent testimony, Paxman said the discussion about hacking began when Morgan teased another lunch guest, one-time weather woman and TV personality Ulrika Jonsson, about her affair with the manager of England's soccer team, Sven-Göran Eriksson.

"Morgan said, teasing Ulrika, that he knew what had happened in conversations between her and Sven-Göran Eriksson, and he went into this mock Swedish accent," recalled Paxman.

"Now I don't know whether he was repeating a conversation that he had heard, or he was imagining this conversation. … It was a rather bad parody."
Morgan, who has denied ever listening in on calls between Jonsson and Eriksson, responded to the allegations via Twitter:
Right – that's the last time I'm inviting Jeremy Paxman to lunch. Ungrateful little wretch.

— Piers Morgan (@piersmorgan) May 23, 2012
Morgan had previously testified before the Leveson Inquiry himself over the persisting hacking allegations.
h/t LA Times
Have a tip we should know? tips@mediaite.com