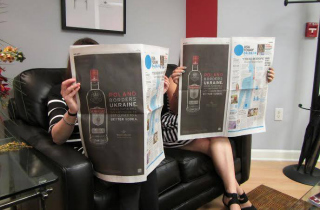 Vodka is supposed to be tasteless, which may explain the thinking behind this new ad for Polish brand Sobieski. The ad, which ran as a full page on the back of USA Today last week reads "Poland borders Ukraine. Guess Putin will do anything to get closer to better vodka."
Like start a war!
The ad comes as the two countries are poised on the brink of a potentially significant conflict. Today Ukrainian special forces did battle with pro-Russia militants, leading to one death and several injuries, the New York Times reported. LOL. Somehow this doesn't seem like it would work if it read something like "Bush invades Afghanistan. Guess he'll do anything to get closer to get some Kabuli Palaw" or "Obama loves Pakistani nihari so much he's sending a flying stealth robot for delivery."
Great trolling of #Putin by Poland advertising pic.twitter.com/CqXfCBItp0

— Brilliant Ads (@Brilliant_Ads) April 13, 2014
Great trolling indeed, but not of Putin per se. Yes, we're well aware that this is how advertising works now. Some dumb brand designs something "edgy" so that people like us will get outraged about it, then write blog posts thereby furthering the reach of the ad. But in this case the war-profiteering at work here was too shameless to ignore.
The ad was designed by the Marty Weiss & Friends firm for Belvédère, the French company that owns Sobieski but, confusingly, does not own the Polish vodka of the same name. A small percentage of the vodka brand is owned by actor Bruce Willis, who has appeared in much of their marketing campaigns.
"Since the launch of our Truth in Vodka campaign, we have been challenging the exotic ingredients, sexual innuendo, overblown designer packaging, escalating pricing and virtually every other gimmick used to convince people to pay outrageous prices for one of the least expensive spirits to produce," MW&F explain of their Truth In Vodka campaign for Sobieski. While they're right about the empty rhetoric and aspirational nonsense of most vodka marketing, some how this doesn't seem to fit into that high-minded mission.
Some of their other advertising coups have come in such innovative techniques as using sex to sell tequila. Genius.
The ad here hints at what has long been a source of contention between the two countries, with both Poland and Russia laying claim to the invention of vodka, dating back, at least to the 1400s. Of course the borders of the countries in question were a lot different back then. People have been trying to rewrite history through annexation of neighboring areas for a long, long time. It's always hilarious.
I reached out to the ad firm for comment and will update if they respond.
UPDATE: Via email, Marty Weiss of MW&F explained to me:
I would say that the first job of any ad is to get noticed… and Sobieski has achieved incredible success in the US market with a feisty creative approach that makes its advertising stand out and a small budget go a long way… at a time when many in the media were speculating about what Putin was thinking, our goal here was to inject humor into a tense situation and offer an alternative theory that also made a point about a key element of brand differentiation, our vodka's country of origin…
[Images via Sobieski/Facebook]
— —
>> Luke O'Neil is a journalist and blogger in Boston. Follow him on Twitter (@lukeoneil47).
Have a tip we should know? tips@mediaite.com