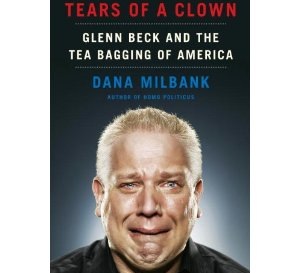 Washington Post columnist Dana Milbank's unauthorized biography of Glenn Beck, Tears of a Clown, came out with a splash earlier this month, but reports tell Politico the interest has not been sustainable in most bookstores. Judging from these numbers, seems like people would rather read about Glenn Beck straight from the source.
The Politico numbers are rather surprising, considering the sustained interested in Beck as a personality:
The Washington Times's Jennifer Harper reported Wednesday that the sales of Dana Milbank's new book on Glenn Beck, "Tears of a Clown: Glenn Beck and the Teabagging of America" were "tepid" and "in the hundreds" two weeks after publication.

A source in the industry gets specific with POLITICO about just how tepid: 914 copies the first week, and 663 copies the second, according to Bookscan. (Bookscan accounts for about 70 percent of books sold, and does not count e-books.)

That's around 5 percent of the 38,700 books printed.
Random House, who published the book, refused to comment, and Milbank himself was tongue-in-cheek about the sames, calling these numbers "absurd" but adding that he was aware the book wouldn't sell like, say, Arguing with Idiots or The Overton Window. Milbank also cites Amazon numbers in his defense and, yes, Tears of a Clown is #2 on the "History and Criticism" bestsellers list.
While the sources in the Politico piece are anonymous and Milbank has never quite been a completely partisan figure, Beck fans and allies have made all of an occasion out of the report with the comical Twitter hashtag #sellingbetterthanMilbank.
Have a tip we should know? tips@mediaite.com