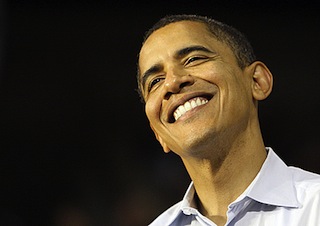 While Mitt Romney's been sitting in Tampa, staring longingly at his still-unpacked bathing suit in between bouts of shaking his fist at the heavens and screaming "I GET IT, GOD! PLEASE GIVE ME LESS OF A SIGN!," the President is busy doing the real hard work of campaigning; sitting down for incredibly tough and probing interviews. I know what you're thinking; how could there be anything left to cover after People and Entertainment Tonight have set their fine-toothed journalistic combs on him? Well, don't worry. If there's any news entity that's ready to find the stories that the others missed, it's this one.
That's right. President Obama is sitting down with Glamour.
While the magazine has historically interviewed presidents and candidates every election (including Obama as well as John McCain back in 2008), the announcement comes after a string of complaints about Obama's "soft-media" strategy, fitting nicely into the narrative. Accessorizing well with it, if you will.
Cindi Leive, the Editor in Chief of Glamour (the magazine which, if you remember, broke the huge story which George Costanza got caught masturbating to) recently sat down with Obama in Portland. WWD scored the story about the score:
"A woman's magazine like Glamour would not traditionally be in play for an interview with the President — first ladies have been more their turf — but agreeing to the interview is a mark of changing media strategies. The Obama campaign has recently been exploring alternative news outlets to press their message — ESPN Magazine, People magazine and Entertainment Tonight have all scored interviews, much to the dismay of the White House press corps, who have not enjoyed the usual privilege of questioning the President since Aug. 19. Stephanie Cutter, a spokeswoman for the campaign, described these outlets as being "equally important" to traditional political media.

Glamour pitched them on a big audience, said Washington editor Linda Kramer Jenning. 'There's a lot of attention being paid to young, women voters,' Jenning said. 'That's the calling card that opens the door.' It took five months to lock down some face time."
So, what's the next stop for President Obama? It's unclear, but I have my theories.
As we speak, I imagine one of the President's top aides is running into the room excitedly:
"Mr. President!" the aide yells. "Good news! We booked that interview with Mad!"
"Cancel it," the President responds quickly.
"But why?"
"It would be overkill. After all, the subtle message of everything we've done so far has already been 'What, me worry?'"
(h/t Politico)
Have a tip we should know? tips@mediaite.com