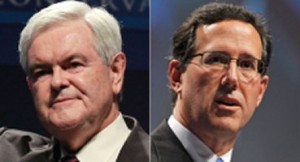 Did Newt Gingrich and Rick Santorum have a responsibility to step down from their posts as Fox News contributors the moment each knew he'd campaign for the Republican presidential nominee? That's the question Davidson Goldin, who was formerly an editorial director of MSNBC and a political anchor for NY1, is posing in The New York Times.
Writes Goldin:
Anyone acting like a presidential candidate — which includes activities like leaking the imminent announcement of an exploratory effort (Mr. Gingrich) or announcing plans to participate in primary season debates (Mr. Santorum) — should do the responsible thing and take a time-out.
He goes on to points out that, more and more, cable news networks are benefitting immensely from featuring pundits with both political experience and clearly defined political opinions – precisely the sort of person who may want to run for office someday.
So how should networks, and the pundits themselves, choose to deal with the potential conflict that may arise when contributors choose to vie for political office?
The key is transparency. Viewers should be informed of a pundit's decision to run as soon as that person decides to throw his, or her, hat in the ring, just as pundits should be open and proactive with the networks and people with which they work. After all, what else would the TV colleagues they leave behind have to talk about?
Then there's a trickier question: Should (and, if so, when and how) anchors and pundits announce which candidates or nominees they personally endorse? Can an assumption of professional neutrality – and/or an entitlement to privacy – override the need for transparency in such cases?
Have a tip we should know? tips@mediaite.com