Presidents Bill Clinton & George W. Bush To Face Off In Staged Theater Political Debate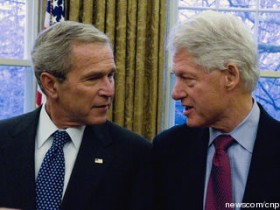 Better than the Rockettes! On February 25th, Presidents Bill Clinton and George W. Bush will appear at Radio City Music Hall in what the New York Post is calling "a presidential debate for the ages."
UPDATE: It's off. But by all means read my sardonic reaction below.
Yeah. Make that "a presidential debate for the months" — because they just did it last May in Toronto. Those looking for a knock-down drag-out fight should look back to Toronto for a sense of how this one will go — probably politely, chummily, and with a few key references to "freedom." I'm sure it will be interesting — by February, who knows where things will be in Afghanistan, or health care, or really anything — but those hoping for zingers will probably be disappointed. These two are buds by now.
The event is part of MSG Entertainment's third annual "Minds That Move The World" speakers series. Note the word "Entertainment" here, people — that's the primary purpose here (and to make money, of course: Tickets max out at $1,250 — cheap compared to Toronto's $2,500 ticket, though of course that was in Canadian dollars). The "Minds That Move The World" program was the one that brought Karl Rove and James Carville together for a spicy debate last May, complete with Code Pinkers and zingers from both sides. I was there, and it actually did get nasty. It felt like a real clash — but then I saw that they were repeating the performance in Boston the next night. Political theater, indeed.
The New York Post just broke this last night, so there's no word on whether the spectacle will travel to Boston or anywhere else. But you can bet it would be lucrative for both men to do so: To paraphrase Linda Evangelista, they don't get onstage for less than $150,000 a pop
According to the Post, the event is being billed as "The Hottest Ticket in Political History," but I'm going to go with what David Letterman said about it last time: "There's nothing more exciting than a presidential debate that doesn't count." Unless the Secretary of State is in the front row, heckling. I'd pay $1,250 to see that.
Former presidents to face off in debate [NYP]
Bush, Clinton get standing ovation after Toronto 'conversation' [CBC]
Rove v. Carville Square-Off Just Political Theater [Charitini]
Have a tip we should know? tips@mediaite.com