Professor Who's Correctly Called Every Election Since 1984 Says Trump Will Win Narrowly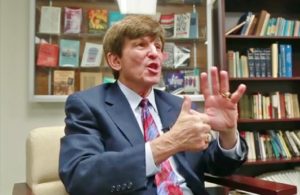 In a conversation with the Washington Post, American University professor of history Allan J. Lichtman stated that he was standing by his prediction that Republican presidential nominee Donald Trump will win the election next month, despite being behind in the polls.
Lichtman predicted last month that Trump would be victorious based off of a formula that uses 13 keys. Essentially, if the incumbent party has six keys against it, that candidate will not take the White House. The prof has used this system to accurately call presidential elections since 1984.
However, he made his prediction prior to the Access Hollywood tape and the subsequent avalanche of sexual assault accusations made against Trump, leading to Hillary Clinton holding a substantial lead in national polls. Yet, Lichtman isn't wavering, but he is offering qualifiers.
Qualification number one: It takes six keys to count the party in power out, and they have exactly six keys. And one key could still flip, as I recognized last time — the third party key, that requires Gary Johnson to get at least five percent of the popular vote. He could slip below that, which would shift the prediction.

The second qualification is Donald Trump. We have never seen someone who is broadly regarded as a history-shattering, precedent-making, dangerous candidate who could change the patterns of history that have prevailed since the election of Abraham Lincoln in 1860.
In the end, Lichtman says that everything points to Trump winning by the "narrowest of margins." He also noted that his prediction isn't a "crystal ball" and if Hillary pulls it out it could "reset everything."
Watch the video above, via the Post.
[image via screengrab]
–
Follow Justin Baragona on Twitter: @justinbaragona
Have a tip we should know? tips@mediaite.com