REPORT: Clinton Maid Printed Out Sensitive Emails For Hillary, FBI Has Not Interviewed Her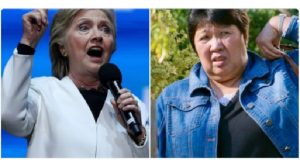 The New York Post is reporting that a maid for Hillary Clinton's Washington, D.C. residence was regularly asked to print out emails for Clinton while Hillary was Secretary of State despite the maid lacking security clearance.
According to the Post's story, Marina Santos would have emails forwarded to her by Clinton aides to print out do the Secretary could read them later. While the report doesn't indicate that Santos ever received documents marked top secret, it does state that she was sent emails that were deemed "sensitive" and "confidential."
Beyond being entrusted to print out documents for Clinton that included memos, speeches and background info on world leaders, Santos apparently also had access to a secure room in the residence known as an SCIF — sensitive compartmented information facility. That room is where secure faxes would be sent.
Per the Post, Santos has yet to be interviewed or subpoenaed by the FBI or Congress in relation to the investigation into Clinton's private email server.
Yet it appears Clinton was never asked by the FBI in its yearlong investigation to turn over the iMac Santos used to receive the e-mails, or the printer she used to print out the documents, or the printouts themselves.
It was also noted that Santos may have knowledge of missing devices related to Clinton's emails.
This is a major oversight: Santos may know the whereabouts of a missing Apple MacBook laptop and USB flash drive that contain all of Clinton's e-mails archived over her four years in office.

In 2013, [Clinton aide Monica] Hanley downloaded Clinton's e-mails from her private server to the MacBook and flash drive.
Santos told the Post that she doesn't "speak to reporters" when asked for comment about the story. The Clinton campaign and State Department also didn't respond to the paper regarding the report.
[image via screengrab]
–
Follow Justin Baragona on Twitter: @justinbaragona
Have a tip we should know? tips@mediaite.com