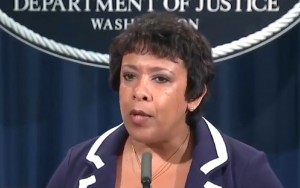 According to reporting from The Wall Street Journal, the Clinton Foundation was under investigation earlier this year by the FBI, but that investigation was stymied and may have been shut down completely by the Justice Department.
"Early this year, four FBI field offices—New York, Los Angeles, Washington and Little Rock, Ark.—were collecting information about the Clinton Foundation to see if there was evidence of financial crimes or influence-peddling, according to people familiar with the matter," reports The Wall Street Journal. In addition, the FBI was actively probing former Clinton Foundation board member and current Governor of Virginia Terry McAuliffe, but that matter was spun off into a separate investigation.
But in February, FBI officials met with the Justice Department to brief them on the investigation. Per WSJ's source, "the meeting didn't go well." While the FBI sought more sweeping methods of investigation, those siding with the FBI's position say the Justice Department was "stern, icy and dismissive of the case."
In the end, "anticorruption prosecutors at the Justice Department told the FBI at the meeting they wouldn't authorize more aggressive investigative techniques, such as subpoenas, formal witness interviews, or grand-jury activity."
Later in August, a senior Justice Department official angrily called deputy FBI director Andrew McCabe to demand to know why the Clinton Foundation was still being investigated. "Are you telling me that I need to shut down a validly predicated investigation?" Mr. McCabe asked.
According to sources, the Justice Department official paused before replying, "Of course not."
FBI investigators tell WSJ off-the-record that around time, they were told to stand down from their investigations. When they asked who order the stand-down, they were told it was McCabe.
[Image via screengrab]
—
>>Follow Alex Griswold (@HashtagGriswold) on Twitter
Have a tip we should know? tips@mediaite.com