Report: Trump Actively Sought Out Illegal Immigrants to Work on Trump Tower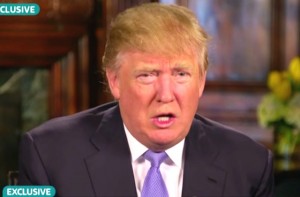 A TIME Magazine investigation found that Donald Trump played an active role in hiring illegal immigrants to work on Trump Tower thirty-five years ago, contrary to his campaign trail statements that he had nothing to do with that decision.
"I hire a contractor. The contractor then hires the subcontractor," Trump said when confronted about his hiring on illegal immigrants by Marco Rubio during a Republican debate. "They have people. I don't know. I don't remember, that was so many years ago, 35 years ago."
But poring over court documents at the time, TIME reporters found that Trump approached the illegal immigrants personally asking them to work on his new building. "Trump sought out the Polish workers when he saw them on another job, instigated the creation of the company that paid them and negotiated the hours they would work," they report.
Testimony from the leader of the illegal immigrants indicates that they working on a job next door when Trump walked over. "Those Polish guys are good, hard workers," Trump said, and offered to hire them to take down a building on the site of what would become Trump Tower. The workers worked nonstop on the project, without sleep, and without required safety equipment.
But Trump withheld paying the workers the $100,000 they were owed. When the workers complained, he threatened to call the Immigration and Naturalization Service and have the workers deported, indicating that he was aware of their lack of legal status.
Trump denied the report in a email to TIME: "The laws were totally different thirty five years ago. The building, Trump Tower, turned out to be one of the most successful and iconic buildings ever built. Do you have nothing better to write about than a story that is 35 years old and filled with half truths and false information?"
[Image via screengrab]
——
>>Follow Alex Griswold (@HashtagGriswold) on Twitter
Have a tip we should know? tips@mediaite.com