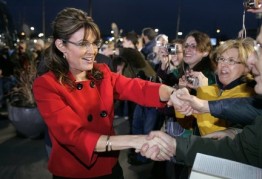 New York is the latest publication to jump on the Sarah Palin as media mogul train. A lengthy cover story this week titled 'The Revolution Will Be Commercialized' (side note: NYMag really needs to work on its headlines) traces how Palin went from little Sarah from Wasilla to the media wonder she is today. If you are a regular reader of this site, or a fan of Palin, most of it is stuff you already know. However it includes a rather interesting and detailed play-by-play of why Palin decided to quit being governor of Alaska last July. As many suspected it was, generally speaking, mostly about money, though, the part about the Alaska attorney general's office "lengthy list of conditions" regarding her book tour was news to me. From NYMag:
For Palin, the months since Election Day had been a letdown even bigger than the loss to Barack Obama and Joe Biden. Being governor was drudgery. "Her life was terrible," one adviser says. "She was never home, her [Juneau] office was four hours from her house. You gotta drive an hour from Wasilla to Anchorage. And she was going broke." Her sky-high approval ratings in Alaska—which had topped 80 percent before John McCain picked her—had withered to the low fifties. She faced a hostile legislature, a barrage of ethics complaints, and frothing local bloggers who reveled in her misfortune. All this for a salary of only $125,000? The worst was that she had racked up $500,000 in legal bills to fend off the trooper scandal and other investigations. She needed money and worried about it constantly. "You have to keep in mind," Bill McAllister, her then–press secretary, told me, "she and Todd were middle class. They're rich now, but not then."

And, whatever one thinks of her intelligence, she was more than shrewd enough to see that there was money to be made on her newfound national profile, and she hadn't been the one making it—this was her particular American resentment. The tabloid-media culture began cashing in on the Palin-family drama ever since her pregnant 17-year-old daughter, Bristol, and boyfriend Levi Johnston stepped on the Xcel Energy Center stage at the Republican National Convention in St. Paul. On multiple occasions, Palin complained to campaign aides about Kaylene Johnson, an Alaska journalist, who had just published a book about her. "I can't believe that woman is making so much money off my name," Palin said.

From the time of her infamous wardrobe selection, money had been an issue in Palin's politics. Her relationship with the McCain campaign had been plagued by financial misunderstanding. In her book Going Rogue, she claimed that the McCain campaign had left her on the hook for her Troopergate bills. Palin was furious. "Deep down, she wanted to make money," a McCain adviser says. "There was always financial stress. They're not wealthy people."

Palin knew there were ways to solve her money problems, and then some. Planning quickly got under way for a book. And just weeks after the campaign ended, reality-show producer Mark Burnett called Palin personally and pitched her on starring in her own show. Then, in May 2009, she signed a $7 million book deal with HarperCollins. Two former Palin-campaign aides—Jason Recher and Doug McMarlin—were hired to plan a book tour with all the trappings of a national political campaign. But there was a hitch: With Alaska's strict ethics rules, Palin worried that her day job would get in the way. In March, she petitioned the Alaska attorney general's office, which responded with a lengthy list of conditions. "There was no way she could go on a book tour while being governor" is how one member of her Alaska staff put it.
Related: The Revolution Will Be Commercialized [New York]
Have a tip we should know? tips@mediaite.com