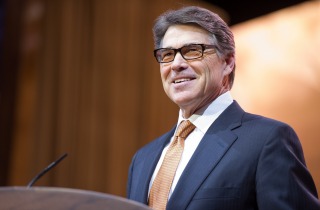 If Texas Gov. Rick Perry (R) plans to make another run for president in 2016, he couldn't have asked for a better piece entertaining the idea than the one published Tuesday in The Atlantic.
The lengthy profile gives Perry plenty of ink to explain why he started wearing glasses almost immediately after his failed 2012 bid (he says a high school accident in his left eye is just now manifesting itself, though many people, even elected Republicans in D.C., speculate they're simply an accessory to make him look smarter); it drives home the point that Perry has schooled himself in detailed policy in case he wants to run again; and it describes how he's positioning himself as a seasoned statesmen with conservative street cred.
But then there's the part where Perry, hanging out with Rep. Mick Mulvaney (R-SC) and his wife Pam, does one of those things you can't make up:
[T]he governor is huddled up with Pam, swapping stories and photos of kids (Perry has a grown son and daughter), dogs (he has four), guns (he digs them; his wife, Anita, doesn't), his 1-year-old granddaughter, and the uncomfortably stiff cowboy boots Pam is sporting, custom made from a gator she shot while in Louisiana.

Next thing you know, one of Pam's boots is off her foot and in the governor's hands. (Perry himself has sworn off cowboy boots in deference to his temperamental spine.) Perry flexes the sole, then sticks his face down inside the shiny black footwear and inhales deeply. "I just love the smell of new leather!" he announces happily. He pauses, looks over at me, and asks, "This is going to wind up in your piece, isn't it? 'He likes to sniff women's shoes!'" The governor chuckles, then resumes his discussion with Pam about the best way to break in boots.
2017 can't come fast enough.
[Image via Shutterstock]
— —
>> Follow Eddie Scarry (@eScarry) on Twitter
Have a tip we should know? tips@mediaite.com